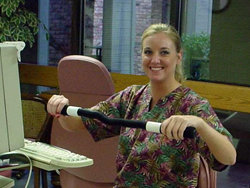 even a small amount of activity can cause major health gains
Austin, Texas (PRWEB) August 30, 2016
A sedentary lifestyle has become more and more prevalent with each passing year. Simultaneously, life has become increasingly busy with tasks that take away from finding time to exercise. With this reality comes a dire consequence that needs to be combated with movement. Being inactive has been linked to 5.3 million deaths globally per year – compared to 5.1 million deaths linked to smoking. These catastrophic numbers call for a serious yet practical response. Current NHS and British Heart Foundation guidelines recommend 150 minutes of moderate exercise a week. The HeartFlex Workout Machine is a truly viable solution for adding movement throughout the day, quickly and affordably, with the everyday person in mind.
As a health and exercise based company, HeartFlex offers 10 simple and practical tips for everyone who is looking to counter a sedentary lifestyle.
1) Don't get discouraged, exercise guidelines are hard to meet – and remember that even a small amount of activity can cause major health gains.
2) Set achievable goals starting with small manageable pieces of activity.
3) Reduce your sedentary behavior by sitting less – stand up – and move.
4) Walk more places and sometimes choose to go the long way around.
5) Park further away from your final destination.
6) Take the stairs.
7) Eat lunch away from your desk and take a lunchtime walk.
8) Walk to a colleague's desk in your office or workplace rather than phoning or emailing them.
9) Research has shown that TV watching is more harmful than sitting at work – probably because of the snacks – so limit your TV diet.
10) Get HeartFlex and "fiddle" your way to health and vitality.
The affordable and easy to use HeartFlex is a great first step towards beginning a regular exercise routine which can become a long term sustainable lifestyle. If you've found it difficult to become more active, you will be inspired by seeing and feeling the benefits of using your handheld HeartFlex. Quick results are possible because you can keep HeartFlex handy and use it throughout your day.
The HeartFlex may be used while standing, walking, sitting, or lying down.
Sedentary employees boost productivity by using HeartFlex at their work station. It decreases blood sugar levels and periodic HeartFlex stretches help to eliminate RSIs, like carpal tunnel, while lowering the tension and stress that frequently occur within the working world.
Because it does not use bulky weights or dangerous springs and bands that can snap back and injure HeartFlex's passivity makes it the ideal workout tool for the de-conditioned, special populations, and for post surgical recovery.
HeartFlex is also ideal for maximizing sports performance because it targets sport specific upper body muscles and joint structures. By combining multiple repetitions with consistent resistance it builds "rock solid strength" through the complete range of motion performed. And because its user controls the intensity of their workout and their joint manipulation it minimizes "overloading" and "overextending" injuries that can curtail activities.
For work or play, pre-task HeartFlex warm ups help prevent the risk of "cold muscle injuries." Plus HeartFlex cool downs remove muscle toxins and rapidly restore the body to pre-exertion physiology.
Most Americans claim walking is their primary form of exercise. Transform your walk into a total body workout by using HeartFlex to add the crucial component of upper body strength conditioning.
With HeartFlex, there are so many possibilities! And wherever it's used its silent operation doesn't detract from conversations, phone calls, watching the TV, and the like.
To learn more about the HeartFlex and to see how easily it can start countering a sedentary lifestyle today, visit http://www.heartflex.com.