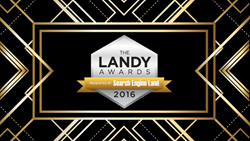 We are proud of the organic results we helped Central Vacuum Stores achieve
TAMPA, FL, and DENVER, CO (PRWEB) August 26, 2016
Bayshore Solutions' digital marketing achievements in Organic Search Engine Optimization for Central Vacuum Stores is selected as an international finalist for Search Engine Land's 2016 Landy Award honoring the Best Retail SEO Initiative.
Just five search marketing entries are named finalists in the Landy Best Retail SEO competition. Search Engine Land created the Landy Awards to recognize worldwide excellence in search marketing. Winners will be announced on September 28, 2016 at the awards gala during the SMX East conference in New York City.
2016 marks the second annual Landy Awards competition. With nearly 200 entries, the competition was filled with incredible efforts by search marketers across the globe. Finalists were selected by Search Engine Land editors and search industry professionals including Google and Bing. Thorough and compelling case studies were entered for the Judges' review and were evaluated on:

Innovative strategies & creative tactics implemented
Best Practice methods employed
Resources & technology utilized
Tangible, Measurable business results
"Bayshore Solutions is honored to be recognized by Search Engine Land among the best search marketers in our industry," said Kevin Hourigan, President and CEO of Bayshore Solutions. "The very core of our agency is focused on applying technology and marketing expertise to deliver measureable results for our clients. We are proud of the organic results we helped Central Vacuum Stores achieve and it is really nice to receive industry acknowledgement of the quality of this work."
Learn more about Central Vacuum Stores website and digital marketing initiatives here.
View more of Bayshore Solutions' award winning results in web design and digital marketing here.
ABOUT BAYSHORE SOLUTIONS
Digital marketing agency, Bayshore Solutions, offers award-winning capabilities for custom web design, website development, e-commerce, and digital advertising. Founded in 1996, the website design and digital marketing company is celebrating 20 years of driving digital success through custom web applications and marketing services to over 2,200 clients in 54 countries. Headquartered in Tampa, Florida, the digital agency has offices in Denver, Colorado and Miami, Florida. Bayshore Solutions integrates technology and marketing services to ensure measurable results for clients.
# # #