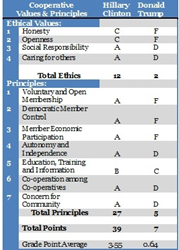 Listeners Grade Candidates on Co-op Readiness!
Washington, DC (PRWEB) September 06, 2016
Vernon Oakes, host of Everything Co-op, a weekly radio show, turns to his audience to rate the candidates in the upcoming Presidential election. After a brief introduction of the cooperative principles, Vernon asked his audience to rate the two main candidates. During the first show he invited the audience to comment on how they would grade the candidates, as to how they measure up with the cooperative principles. He dedicated a second show to evaluating their grades, and sharing his perspective on how he felt the candidates would fair when viewed through a cooperative lens. The results were quite revealing. See the Presidential Report Card, or the attachment to view a larger image.
The cooperative principles and accompanying values serve as guideposts for the cooperative business model. Cooperatives are based on the values of self-help, self-responsibility, democracy, equality, equity and solidarity. In the tradition of their founders, cooperative members believe in the ethical values of honesty, openness, social responsibility and caring for others. These principles are not only guiding values for cooperators, but can and should be guides for life as well. In this two-part series, Vernon engages his audience to give them an open forum to voice their views of the two primary candidates.
Vernon Oakes is the host of Everything Co-op, a weekly radio show sponsored by National Cooperative Bank. The Show airs on Radio One's premiere station WOL 1450 AM, Thursdays 10:30 – 11:30am, in the Washington Metro Area. The primary purpose of the show is to share information about the cooperative movement, including how to form, manage and maintain cooperatives. The shows primary objective is to share information with individuals that will empower them to either form their own cooperatives, or support cooperatives and other fair trade enterprises. Vernon has been using his radio show to share ways that cooperatives can be used to address issues of housing, food deserts, the rising cost of utilities, and so many more World-wide problems. To that end, he chose to rate the presidential candidates on how they measure up when being rated from a cooperative perspective. The interviews have been produced as podcasts and are posted on the shows' website, at http://www.everything.coop Check out the website to listen to those interviews and to find out other news in the cooperative Universe.
If you do not live in the Washington, DC Metro Area, you can listen to Everything Co-op on Tune-in Radio, on the WOL 1450 station, or you can listen on the live stream of the show on WOL's website at http://www.woldcnews.com. To keep up with the trending news in the cooperative world, tune-in on Thursdays to EVERYTHING CO-OP!