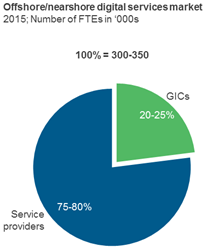 We see best-in-class GICs going beyond traditional recruitment channels and leveraging alternate ecosystem routes to hire digital talent.
Dallas, TX (PRWEB) August 29, 2016
The criticality of digital services to the future of the enterprise is one of the reasons Global In-house Centers (GICs) are well positioned to provide those services. According to new research from Everest Group, enterprises tend to view GICs as more strongly integrated with the core business than other offshoring or nearshoring options. This explains in part why GICs represent 25 percent of the offshore/nearshore digital services market, and why that percentage is likely to grow.
Currently, analytics, cloud and mobility services are the predominant digital capabilities being provided by GICs. The banking, financial services and insurance (BFSI) sector leads in driving digital service adoption, followed by the technology and retail industries.
One of the biggest challenges faced by GICs in delivering digital services is acquiring digital talent. Everest Group suggests that GICs expand their acquisition of talent beyond traditional sources, improve talent retention endeavors, and enhance efforts to reskill and upskill talent to encourage progression along defined career paths.
Everest Group described these results and recommendations in detail in a one-hour, live webinar on August 10. The webinar, "GICs Drive Digital Transformation, Plus Market Vista™Q2 2015 Update," also featured Everest Group experts sharing highlights of the global services market in Q2 2016.
***Download the complimentary presentation and attend the webinar on demand.*** (Note: download requires free registration on Everest Group's research site or log-in using an existing account.)
"GICs are uniquely positioned to support their parent enterprises in their strategic digital journeys," said H. Karthik, partner at Everest Group. "GICs typically have an established foundation with and an endorsement from their parent; they possess a significant pool of talent; they are tightly integrated with the core business; and they are highly focused and motivated to build internal innovation capabilities.
"One of the key challenges for GICs, however, is maintaining the talent pool," Karthik continued. "We see best-in-class GICs going beyond traditional recruitment channels and leveraging alternate ecosystem routes to hire digital talent."
Other Takeaways

Q2 2016 saw a stagnation of overall ITO demand, with the market being characterized by a shift from traditional services to digital technologies, DevOps, and as-a-service models.
Business process outsourcing (BPO) demand increased significantly in Q2, led by analytics and industry-specific business processes.
GIC activity was strong, with an increasing share of mid-sized buyers in new setups.
Location activity continues to grow in Asia Pacific and Nearshore Europe, with new center setups reaching an all-time high.
Brexit is likely to significantly impact the global services market in the UK and EU.
About Everest Group
Everest Group is a consulting and research firm focused on strategic IT, business services, and sourcing. We are trusted advisors to senior executives of leading enterprises, providers, and investors. Our firm helps clients improve operational and financial performance through a hands-on process that supports them in making well-informed decisions that deliver high-impact results and achieve sustained value. Our insight and guidance empowers clients to improve organizational efficiency, effectiveness, agility and responsiveness. What sets Everest Group apart is the integration of deep sourcing knowledge, problem-solving skills and original research. Details and in-depth content are available at http://www.evererstgrp.com and research.everestgrp.com.
###
Contact:
Andrea M. Riffle, Everest Group
andrea.riffle(at)everestgrp(dot)com
Robert Cathey, Cathey Communications
+1-865-386-6118
robert(at)cathey(dot)co