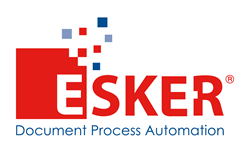 That's what makes EAUC so valuable — not only is it a platform to work through those challenges in an educational setting, it's also a way to talk face-to-face with other business leaders who have been through it and have valuable stories to share
Madison, WI (PRWEB) September 13, 2016
Esker, a worldwide leader in document process automation solutions and pioneer in cloud computing, today announced the start of the 2016 Esker Americas User Conference (EAUC), taking place at the Monona Terrace Convention Center® in Madison, Wisconsin, on Sept. 13-14, 2016.
As Esker's flagship event, EAUC gives customers, partners and business leaders a valuable platform to network with peers, hear from subject matter industry experts and optimize their strategies for improving critical business processes. At the end of each day, attendees will gather for special evening events in downtown Madison — the eclectic capital city of Wisconsin and home to Esker's U.S. headquarters.
On the Agenda
Over the past decade, Esker has continually refined its user conference to better suit the ever-evolving objectives of its recipients. This year is no different, as Esker has honed its focus on three distinct areas:

Expert insights — EAUC 2016 features enhanced insight on order-to-cash (O2C) and purchase-to-pay (P2P) processes, including a series of speakers.
Education and training — Breakout sessions and workshops provide best practices targeted to attendees interested in O2C and P2P improvement. Technical courses are also available, including one-on-one consultations.
Collaborations — Panelist-led discussion groups help foster an interactive atmosphere so that attendees can get faster answers in a more engaging and comprehensive way.
"Today's businesses are feeling increasing pressure to drive added-value within their organization, and knowing where to start and how to approach it can be daunting," said Steve Smith, U.S. chief operating officer at Esker Americas. "That's what makes EAUC so valuable — not only is it a platform to work through those challenges in an educational setting, it's also a way to talk face-to-face with other business leaders who have been through it and have valuable stories to share."
Expert Speakers & Customer Stories
EAUC 2016 will also feature a distinguished panel of speakers offering their thought-provoking advice and expert perspectives on a wide range of modern business topics. Speakers at this year's conference include: Laura Goodrich, Jimmy LeFever and Adrian Posteraro.
Esker customers will also join in on the presentations, highlighting how their involvement with Esker's solutions helped them overcome specific industry challenges and achieve new levels of business success. Customer and partner speakers for EAUC 2016 include Tom Gerth, Oracle senior systems manager at Sonoco, and Cindy Reid, senior director accounts payable and commercial trade accounting at Dr Pepper Snapple Group.
About Esker
Esker is a worldwide leader in cloud-based document process automation software. Esker solutions help organizations of all sizes to improve efficiencies, accuracy, visibility and costs associated with business processes. Esker provides on-demand and on-premises software to automate accounts payable, order processing, accounts receivable, purchasing and more.
Founded in 1985, Esker operates in North America, Latin America, Europe and Asia Pacific with global headquarters in Lyon, France and U.S. headquarters in Madison, Wisconsin. Last year Esker generated 58.5 million euros in total sales revenue. For more information on Esker and its solutions, visit http://www.esker.com. Follow Esker on Twitter @EskerInc and join the conversation on the Esker blog at blog.esker.com.