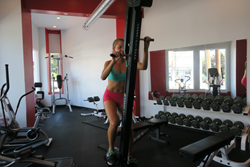 "During the start of the class, clients will keep a food journal, and I will also be offering 24/7 support, through our Elite Training Facebook Group. These classes are unlimited 30 minute classes and are tailored to each person's individual needs."
Boston, Massachusetts (PRWEB) November 01, 2016
Battling the bulge with the holidays quickly approaching can seem like a losing battle for most Americans. Frosted cookies, pumpkin pie, mac-n-cheese, ham, etc.—calories lurk around every corner during this time of year.
"During the holidays it's so easy to gain 3-5 pounds if you're not careful," warned Will Byrd, a certified fitness trainer and the owner of Elite Training Boston. "It's really important to plan ahead. For example, don't show up to a party hungry. Otherwise, you run the risk of consuming more calories than had you eaten beforehand."
With keeping with "Thank Your Health" for November, Byrd stresses the importance of portion of control, avoiding drinking your calories and, of course, exercising.
"It's easy to say you're too busy to exercise during the holidays, but just 30 minutes a day can really make a positive impact on your health," stated Byrd. "Plus, it can help you burn those extra calories you may have consumed during a holiday function."
Increased weight gain has been associated with an increased risk for heart disease, high blood pressure, high cholesterol, diabetes and even some cancers. Research has shown that exercise can slow or help prevent those health issues mentioned.
"To help motivate people to put their health first during the holidays and avoid the weight gain, Elite Training Boston is offering a new AirFit Power Biking, HIIT & Versa Climber class," stated Byrd.
The month-long class which starts November 1st is designed for individuals who want to lose weight, tone up and develop healthy lifestyle choice. The Airfit bike and Versa Climber are designed to help people burn calories, fat and tone faster than traditional exercise equipment.
The new class, which is competitively priced at $199, is the only one of its kind in the Boston area. For additional information, click here.
About William Byrd: Will Byrd holds certifications from the International Sports Sciences Association, Functional Movement Systems, and the National Academy of Sports Medicine. He is a Certified Fitness Trainer, a Performance Enhancement Specialist and holds a B.A. in Philosophy from Green Mountain College. Prior to opening Elite Training Boston, Byrd trained and studied the Versa Climber in Los Angeles. His studio has since become the epicenter for athletes, MMA fighters and models. His studio is also the first on the East Coast to teach Versa Climber classes.