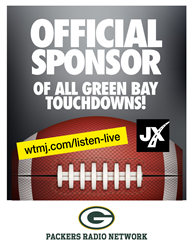 "This is a great opportunity for us to get the word out about who we are," says Eric Jorgensen, President & CEO of JX.
Hartland, Wisconsin (PRWEB) August 30, 2016
JX Peterbilt is proud to announce that they will be the first ever official sponsor of all Green Bay touchdowns on Packers Radio Network. Sponsorship will include 30-second in-game radio spots, live reads, VIP Tickets, as well as the JX Peterbilt name mentioned after every Green Bay touchdown.
"Not only is this a great opportunity for us to get the word out about who we are," says Eric Jorgensen, President & CEO of JX. "It also allows our Sales Associates the opportunity and access to treat customers and potential customers to an amazing VIP Green Bay football experience."
The Packers Radio Network is made up of 50 stations throughout the Midwest with a commanding reach into states like Wisconsin, Illinois, Michigan, and Minnesota, to name a few. According to Packers Radio Network, each broadcast reaches around 1.1 million listeners. All home and away games are broadcasted on Milwaukee's 620 WTMJ radio. Smart phone and computer listeners can also tune in online at http://www.wtmj.com/listen-live.
Main announcers, Wayne Larrivee and Larry McCarren, announce for Packers Radio Network Play-by-Play, the in-game programing. The pair has been announcing for Green Bay games together for over 18 years.
"We are looking forward to partnering with Packers Radio Network." says Peter Gorman, JX Marketing Manager. "When one considers that our message could reach over 1.1 million listeners every game, it's a great way to continue to grow awareness for JX and all we do."
The 2016 football season marks the 87th year that WTMJ has been a broadcast partner with the Green Bay Packers. It is a long-standing partnership that started back in 1929.
The next pre-season game is on Thursday, September 1, in Kansas City. To hear this game and future games, tune in to 620 WTMJ, and listen for Green Bay touchdowns sponsored by JX Peterbilt.
Listen Online Here: http://www.wtmj.com/listen-live
About JX
JX Enterprises is a family-owned, locally-operated group of more than 19 full-service truck dealerships and support services across the Midwest. JX Peterbilt, JX Financial, JX Leasing, JX Truck Center, JX Hino – Chicago, and ALLTrux Capital are all subsidiaries. JX prides itself in their ability to help customers by providing transportation solutions to fit their long- and short-term goals. JX Enterprises was founded in 1970 and is headquartered in Hartland, Wisconsin. Visit them at http://www.jxe.com.
About WTMJ
620 WTMJ is the flagship station of the Packers, Brewers, and Bucks. At 50,000 watts it's also the largest radio station in the state. Visit them at http://www.wtmj.com.