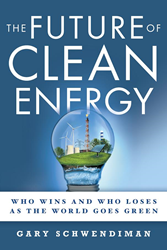 The truth about how to solve the world's most pressing problems may come as a surprise...
Tucson, AZ (PRWEB) August 29, 2016
While it's clear that the world needs to change the way its resources are consumed and distributed, for many, the path to a sustainable future may not be so clear.
In "The Future of Clean Energy: Who Wins and Who Loses as the World Goes Green" author and professor Gary Schwendiman reveals that the solutions are very much within the world's grasp; it's just a matter of overcoming misinformation. Schwendiman's research argues that most popular beliefs about the future of clean energy are simply incorrect, and most governments waste billions of dollars on the wrong green initiatives.
"We can turn the lights on for everyone on the planet, but not with wind and solar power," Schwendiman said. "And we can meet the rapidly growing demand for fuel, but not with oil shale, natural gas, or hybrid and electric engines."
3 billion people lack access to electricity. By 2030, the number of vehicles on the road will double, from 1 billion to 2 billion. This means, one day, hundreds of millions of additional consumers will demand electricity and fuel. If the world's energy providers can't meet demands in a sustainable way, it will lead to crisis, poverty and a world-wide economic upheaval.
Schwendiman offers straightforward explanations of the potential energy source options, by comparing them to a football league, separated into two conferences. The winner of the big game is the energy source that demonstrates the greatest benefit to the global environment and economy, in the coming decades.
"The truth about how to solve the world's most pressing problems may come as a surprise," Schwendiman said. "Yes, much of it resides in cutting-edge technology and forward thinking but, in many ways, it is already right here under our noses."
For more information, visit: http://bookstore.authorhouse.com/Products/SKU-000578066/The-Future-of-Clean-Energy.aspx or https://www.facebook.com/futureofcleanenergy.
The Future of Clean Energy
By Gary Schwendiman
ISBN: 978-1-49694-042-1
Available in softcover, hardcover, e-book
Available on Amazon, Barnes & Noble and AuthorHouse
About the author
Gary Schwendiman cofounded one of the first private equity firms in the United States to invest exclusively in clean energy. He has given presentations on clean energy topics in 26 states and 10 foreign countries. To learn more about Gary Schwendiman and his book visit: http://www.FutureofCleanEnergy.com.
# # #
For review copies or interview requests, contact:
Lindsey Gobel
317.435.2116
lgobel(at)bohlsengroup(dot)com