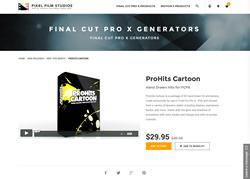 With 30 hand-drawn hit animations ProHits Cartoon is a great plugin for new dynamic effects including slashes, explosions, bursts and more
Aliso Viejo, California (PRWEB) August 30, 2016
"With 30 hand-drawn hit animations ProHits Cartoon is a great plugin for new dynamic effects including slashes, explosions, bursts and more," said Christina Austin - CEO of Pixel Film Studios.
ProHits Cartoon's package transforms over 300 hand-drawn pictures into dynamic hit animations. Simply select a ProHits generator and drag it above media or text in the Final Cut Pro X timeline. Stretch the generator to slow the animation and shrink the ProHits presets to speed it up.
ProHits Cartoon features intuitive controls that allow users to adjust the style and orientation of each animation preset. Editors can determine the scale, position, and rotation of title elements with on-screen controls. ProHits Cartoon users can manipulate colors, add a glow, and a drop shadow with simple color swabs, sliders, and checkboxes.
Customize the style of ProHits with a glow and shadow options that can be found in the inspector window. Add a sharp drop shadow to achieve a clean cartoon look. Alternatively, use the glow controls to create a soft hue around ProHits presets for a more sci-fi look. The options are endless with ProHits.
This plugin has animations that are extremely versatile. Utilize animation presets to unveil anything from text to graphics by increasing the size of presets enough to cover a given area. To transition from one scene to the next, continue scaling hit presets to fill the screen entirely. Utilize ProHits to add a touch of fun to any Final Cut Pro X production.
Established in 2006, Aliso Viejo, California-based Pixel Film Studios is an innovative developer of visual effects tools for the post-production and broadcast community. Their products are integrated with popular non-linear editing and compositing products from Apple FCPX. Apple, the Apple logo, Mac OS X, and Macintosh are registered trademarks of Apple Inc. in the U.S. and/or other countries. All other trademarks and trade names are the property of their respective owners.