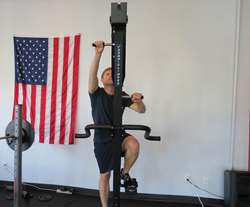 If you want to challenge yourself, challenge others, this is a great way to do it without any strings attached. You've got nothing to lose—except for calories.
BOSTON, MASSACHUSETTS (PRWEB) September 27, 2016
The arrival of fall signals that the holidays are right around the corner. While parties, fellowship with friends and indulging in delicious food go hand-in-hand this time of year—this is also the time when most Americans are prone to pack on those extra pounds.
In fact, about 75% of annual weight gain takes place during the holiday season. Even if you gain just two pounds a year over the course of 10 years, that ultimately adds up to 20 pesky, hard-to-lose pounds!
To encourage people to get an early start to their fitness before the holidays kick into full gear, Elite Training Boston will host its first ever fitness tournament on October 8th.
"This is going to be a really fun event. You don't have to pay to sign up for this. It's just my small way of giving back to the community to promote healthy living," stated Will Byrd, the owner of Elite Training Boston.
A $200 gift card to Lululemon will be awarded to the person who reaches the most feet during in 30 minute using the Versa Climber, a fun and easy-to-use machine that provides amazing results by targeting all of the major muscle groups.
No membership to Elite Training Boston is necessary to take part in the upcoming event. Registration and participation is also completely free. The event will take place at 150 Belmont Street in Watertown, MA. There is ample free parking on the street and free parking in the parking lot behind the gym.
The winner of the tournament will be announced on the official Elite Training Boston Facebook page. To take part in the tournament, participants can send an email to will(at)elitetrainingboston(dot)com or call 617-505-2627​.
For those who wish to continue their fitness journey after the tournament, Elite Training Boston is making it even easier to lose weight and stay in shape, having also recently partnered with ClassPass. Every month, members can take a variety of classes and visit the same studio up to 4x a month. This allows them to conveniently set their own schedule and find what works best for them. The studio will also be launching its "Get Fit for Fall," a four-week class, on October 1st.
About Elite Training Boston: Located in Watertown, Elite Training Boston offers clients several fitness programs proven to work and help people reach their weight loss and fitness goals. The studio is owned and operated by William Byrd, one of the top-leading certified fitness trainers in Massachusetts, having logged 10,000 hours of fitness training and education. The studio specializes in the Versa Climber machine, a type of training that promotes rapid weight loss and boosts athletic performance.