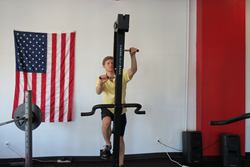 Boston, MA (PRWEB) December 08, 2016
Winter season is coming up. Thus, everyone is trying to get their year-end exercise right before Christmas time. Gyms are going to be packed during the winter.
With a disciplined exercise plan, the possibilities for personal fitness are endless. But, exercise is not the only thing that helps personal growth. The food eaten takes a major part in the growth of the body and how the body is formed.
Without proper nutrition, the body is weak. Having a proper diet helps the body grow and recover in an expedient manner. Elite Training Boston helps clients maintain their diets to promote body growth.
Elite Training Boston is here to help train champions. Starting December 12, get ready for an intensive training course.
The Twelve Days of Fitness will end the year correctly. Bring friends and have a great time getting in shape. Here's what the exercise program entails: Versa Climbing exercises, HIIT and hours of using the Air Fit Bike. The time to get shredded is now.
Elite Training Boston is the leading gym in East Boston. In fact, the owner William Byrd is the first to open a Versa Climber studio in the area. With over 4 exercise certifications, he is ready to help everyone get shredded for the winter season.
The Versa Climber is a simple yet effective machine that replicates climbing motion. During the first time of use, the body will feel the burn in unused muscles. The 12-day program will ensure that everyone will stay in shape within a short period.
One mistake gym goers make is that they worry only about strength training. To them, cardio is their worst nightmare. A great cardio workout goes a long way. Cardio destroys depression, strengthens the core and promotes weight loss.
Adding cardio to the workout increases stamina and heart health. In the beginning of the 12-day program, everyone will get acquainted with the Air Fit Bike. In fact, there are instant results within days after using it. Within a few workouts, one will see a change in their upper and lower body.
A faster way to gain results through exercise is through High Intensity Interval Training. Despite popular belief, HIIT exercises burn fat and not muscle. In fact, Sarah, a previous client, had a testimonial to speak about the program.
"One thing I wish I learned about exercise is the beauty of HIIT exercises. After taking a week of said exercises, my body started to grow at a rapid rate. Overall, HIIT is a great use of your time at the gym." – Sarah
Throughout the 12-day intensive training program, prepare to be filled with HIIT exercises. The clients who work with us gain powerful abs and strengthen their core through HIIT. By the end of the course, one's body will increase in power. Mainly, this 12-day workout program is a great start to a fit body for next year.
Winter is the time to become strong as a person. Studies have shown that the body is more productive during colder climates. Thus, it is imperative to have a workout schedule during the Christmas season.
One benefit from participating in the program is guaranteed results. Previous clients who worked with Elite Training Boston have notice a loss in their body fat by up to 10%. Elite Boston Fitness can ensure that the calories will burn and pack on muscles in no time. The sessions start at December 12th; have fun and get ripped this winter.