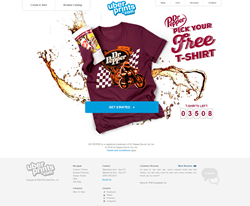 Atlanta, GA (PRWEB) August 27, 2016
UberPrints.com, the online custom apparel printing company known for promoting design creativity, has teamed up with Dr Pepper to give customers free t-shirts. With one month left, these promotional t-shirts are up for grabs after collecting eight coupon codes from Dr Pepper's drink cups. Available designs feature upward of 30 printable artist illustrations.The promotion is an extension of Dr Pepper's "Pick Your Pepper" campaign, and the 30+ available t-shirt designs are drawn from the hundreds of designs currently available on 20-oz. bottles of Dr Pepper.
The promotion uses a modified version of the UberPrints Design Studio web app. The Design Studio is the central feature of the UberPrints website, and it allows customers an easy design experience by providing tools including text editing, design rotation, accurate center alignment, and a bank of thousands of clipart images. The transformed Design Studio will allow customers to view the free t-shirt designs available while also continuing the website's usual quick and simple check-out process.
Having been established in the small, creative town of Athens, Georgia, UberPrints is proud of their unique culture and innovative approach to custom apparel. Earlier this year, the site launched their "design inspirations," which are a multitude of template designs that give customers quick access to well-made designs that are easily editable in the Design Studio. The idea is to allow anyone, designers or not, to create custom t-shirts they will love and reuse.
The partnership between UberPrints and Dr Pepper has been in the works since September of 2015 and launched on June 15, 2016. This promotional opportunity will only last until 15,000 shirts have been given away. Codes are redeemable until January 2017.
About UberPrints.com
UberPrints is a company based in Athens, Georgia. They are an online t-shirt printing service that provides the tools for users to create unique, custom apparel. Known for their quality customer service and quick one-day turn around times, UberPrints delivers from all over the United States to ensure a fast arrival. For more information, visit http://www.uberprints.com/.