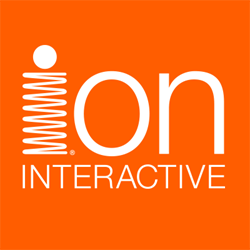 Recurring Capital was a great fit for ion — giving us access to capital to build on our momentum in the growing interactive content marketing space.
Austin, TX (PRWEB) August 29, 2016
ion interactive and Recurring Capital Partners are pleased to announce RCP's extension of a new credit facility to ion interactive, a SaaS provider of one of the leading interactive content marketing platforms. The company will use the proceeds of the facility to drive growth by expanding investments in sales, marketing and customer development.
"Recurring Capital was a great fit for ion — giving us access to capital to build on our momentum in the growing interactive content marketing space. They were professional to work with, and the best part is that they really understand the recurring revenue SaaS model and value proposition." said Justin Talerico, ion's co-founder and CEO.
Customers like Dell, HP, Nielsen, Salesforce, Dun & Bradstreet, Anthem and hundreds more use ion's platform to create some of the web's most engaging interactive content without the burden of development time, money and resources. Marketers are empowered to create, launch and test interactive infographics, calculators, assessments, report cards, quizzes, lookbooks, solution finders, interactive landing pages, ebooks, interactive white papers and much more — all without code. They use these interactive experiences to break through competitive clutter to engage, generate and qualify higher quality prospects.
Talerico went on to say, "We're pleased that we could get this facility in place without being distracted from running the business. Our customers use our platform and services to gain marketing agility and performance. By teaming up with RCP, we've gained business agility that lets us focus on growing the business."
Brian Henley, Recurring Capital Managing Partner, says "We really like the ion business and team and look forward to helping them grow ion to the next level."
###
About ion interactive
ion interactive empowers modern marketers to produce engaging, interactive content marketing that generates higher quality leads. ion provides an agile technology platform and optional services programs to hundreds of leading brands and agencies like Anthem, Dell, DHL Express, Dun & Bradstreet, HP, Iron Mountain, Nielsen, Polycom, Salesforce, Symantec and UBM. ion's platform launches, customizes and tests all types of state-of-the-art interactive content marketing experiences without development resources. ion's interactive infographics, ebooks, assessments, quizzes, lookbooks, interactive white papers, calculators, wizards and configurators deliver competitive differentiation, conversion performance and lead quality for in-house and agency teams.
About Recurring Capital Partners
Recurring Capital Partners specializes in financing SaaS and other recurring revenue model technology-driven companies. RCP provides straight-forward, non-dilutive debt financing flexibly structured to meet the needs of a growing recurring revenue business. The RCP team, advisors and investors couple significant operating experience with start-up finance expertise to drive a focus on results founders and management teams care about: accelerating growth, controlling business and personal risks, and maximizing personal equity stakes.