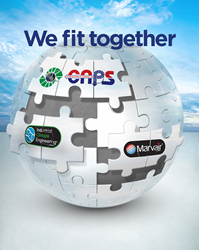 This partnership will allow both companies to see new and exciting growth in emerging markets, while boosting existing customer relations
Cordele, Ga (PRWEB) August 30, 2016
Paul Mechler, President, of both Marvair and Industrial Climate Engineering (ICE), is excited to announce a partnership with Custom Air Products & Services, Inc. (CAPS).
Custom Air products & Services, Inc. (CAPS) one of the largest custom HVAC Manufacturers in North America with over 40 years of experience specializing in the design, construction, installation, modification, and servicing of industrial, commercial and offshore HVAC equipment. CAPS will serve as Regional Distributor for Marvair and ICE products in the US Gulf states of Florida, Alabama, Mississippi, Louisiana, and Texas. Marvair brings their volume manufacturing capability to CAPS broad distribution and sales network. CAPS will offer both standard Marvair and ICE general purpose HVAC units as well as modified equipment to meet their customers' needs. This includes applications like hazardous locations and explosive atmospheres in areas such as petrochemical refineries, mining, waste water treatment, and fertilizer processing plants. "Our partnership with the professionals at CAPS, with their 40 years of experience, will jump start Airxcel Inc.'s newest Division, ICE, at a much faster rate than possible without CAPS' expertise" says Paul Mechler.
Marvair's agile manufacturing capability and CAPS' application knowledge will allow the two companies to grow larger as a team, produce higher quality products, and lower lead time to the end user/customer. Taylor Norris, CEO, CAPS says "This partnership will allow both companies to see new and exciting growth in emerging markets, while boosting existing customer relations". "We are committed, says Norris, to provide exceptional custom design, quality workmanship and unparalleled service at competitive prices".
Custom Air Products & Services manufacturing facilities spans 23 acres totaling 250,000 square feet of covered real-estate. CAPS services are provided to customers throughout world with equipment operating on six (6) continents and in 52 countries.
For the past 60 years Marvair, a division of Airxcel™, Inc., has been a diversified manufacturer of heating, ventilation and air conditioning products for telecommunication enclosures, school classrooms, commercial and industrial applications. For 25 years, Marvair has maintained its status as an ISO 9001:2008 certified company. Airxcel is comprised of four operating divisions: RV Products, Wichita, KS; Industrial Climate Engineering, Cordele, GA.; Suburban, Dayton, TN; and Marvair, Cordele, GA with headquarters in Wichita, KS. In addition to the Marvair products, Airxcel, Inc. manufactures a variety of specialty HVAC equipment and related appliances for recreation vehicles, and other markets under the well-known brands Coleman®-Mach®, Suburban, Marvair, Industrial Climate Engineering and Maxxair.