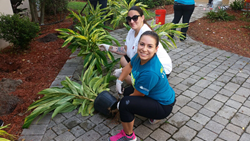 "Molina Healthcare team members set a high standard of community service and are truly a valuable partner in helping us be good stewards of the resources we have been given to serve our community." Brent McLaughlin, Executive Director of Branches, Inc
Miami, FL (PRWEB) August 31, 2016
On Saturday, August 6, 2016, over 40 local Molina Healthcare employees and their families came together for a day of service at the Trish and Dan Bell Family Branches Lakeview Campus located at 11500 NW 12 Ave, Miami, FL 33168.
The day started with breakfast followed by a few words from Branches and then it was off to work! The staff from Molina Healthcare participated in activities such a painting, landscaping, cleaning and much more! Even Dr. Cleo, Molina's cat doctor mascot, joined the fun! The day ended with lunch and a much better looking campus.
Branches is a local non-profit organization based in Miami and primarily focuses on student services and financial stability. Its Grow Program serves elementary students, preparing them for lifelong success through enrichment of their minds, bodies and hearts. The Climb Program serves middle and high school students, focusing on the development of their individual assets in order to maximize opportunities to become better students and better people. Branches' Achieve Programs target the well-being of the entire community through services fostering financial stability and long term success. Services include the ASSETS small business solutions program, the Ways to Work car loan program for working families, free VITA tax preparation and hunger relief. Branches is also proud to house and operate the United Way Center for Financial Stability (UWCFS).
"Molina Healthcare team members set a high standard of community service and are truly a valuable partner in helping us be good stewards of the resources we have been given to serve our community." said Brent McLaughlin, Executive Director of Branches, Inc. "Their passion to serve is an inspiration to us all. Thank you Molina!"
About Branches
For over 40 years, Branches has made a positive impact in the community by delivering on its mission to serve, educate and inspire people through student, family and financial stability services. Branches provides long-term, holistic services for motivated individuals and families. We help people grow deeper and climb higher in life by building a foundation through education so they can achieve their goals and fulfill their potential. For additional information about Branches, please call 305.442.8306 or visit http://www.branchesfl.org.
About Molina Healthcare, Inc.
Molina Healthcare, Inc., a FORTUNE 500 company, provides managed health care services under the Medicaid and Medicare programs and through the state insurance marketplaces. Through our locally operated health plans in 12 states and in the Commonwealth of Puerto Rico, Molina serves approximately 4.3 million members. Dr. C. David Molina founded our company in 1980 as a provider organization serving low-income families in Southern California. Today, we continue his mission of providing high quality and cost-effective health care to those who need it most. For more information about Molina Healthcare, please visit our website at molinahealthcare.com.