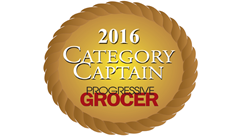 Chicago, Illinois (PRWEB) August 29, 2016
Now in its 20th year, the awards recognize overall excellence in innovative, creative, profit-generating category management platforms that help move retailers achieve shopper-centric solutions.
Progressive Grocer will present the new slate of Category Captains and Category Advisors in its November 2016 issue, which will be devoted to showcasing overall excellence and continued achievement among next-generation category management leaders across the industry.
The deadline to enter is Sept. 2, 2016.
"We ask manufacturers and suppliers if they think they're doing category management right." said Jim Dudlicek, PG editor-in-chief. "Then we ask them how they'd answer number of related questions, such as:

What was the most important new shopper insight or innovation you brought to your retail customers last year?
How did your new insight or innovation build total category volume?
What solutions are your efforts delivering to shoppers?
How did your platform invigorate a dormant or declining category?
Did it leverage social media or mobile technologies in a new and creative way?
How did your platform address the unique needs or issues of your retail customers?
What are your retail partners saying about your category management efforts?"
All Category Captain applicants will be evaluated against three requisite components:
1. Innovation to grow total category volume and deliver real shopper solutions
2. Delivery of measured results
3. Direct performance feedback from retailers
Winners will be notified by Progressive Grocer in mid-September 2016.
Complete Category Captain Awards information, including on online entry form, can be found here. http://www.progressivegrocer.com/pg%E2%80%99s-category-captains-awards
For more information, call:
Jeff Friedman
Progressive Grocer SVP/Group Brand Director
201-855-7621