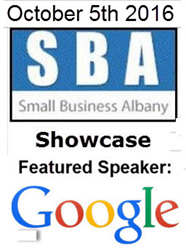 Expected to exceed the 900 attendees last year, and 300 job seekers have pre-submitted resumes
Albany New York (PRWEB) September 07, 2016
The SBA Showcase features over 60 exhibitors, 5 seminar presenters every hour from 9am through 5pm and the event is open to the public. Admission is free to all seminars and networking events.
The Small Business Albany Showcase is Wednesday, October 5th at the Holiday Inn and Conference Center on Rt 9 at 400 Old Loudon Road, Latham New York. The SBA Showcase & Job Fair is underwritten by The Daily Gazette, Albany Broadcasting and SEO Web Mechanics. The event opens with Speed Networking from 7:30a-9a and a full line up of exciting speakers and presenters from 9am to 5pm. Admission to the SBA Showcase, Speed Networking, and all Seminars is free.
The show will kick off at 7:30am with The SBA Showcase Breakfast Meetup and Speed Networking Event. Light breakfast will be available to all participants sponsored by Capital District Catering. Come grab a cup of coffee and network with area business owners, recruiters, marketing experts, social media managers and marketing executives.
Open networking with exhibitors in the Atrium Ballroom opens at 9am. Come meet and greet and find that perfect business to start, join, network with or create a new customer relationship! Over 60 Companies on site and 30+ that will be Recruiting, many hiring on the spot! Bring a detailed resume and dress for success.
From 9a-5p Seminars will run all day, simultaneously across 5 conference rooms: Teleconference Room, Executive Boardroom, and Conf Rooms C, D & E. Find business, marketing and Career Growth topics. Albany Job Fair and Business Seminars start at 9am and run through 5pm.
Opening remarks by The Daily Gazette will kick off the show. Featured presenter Google will be in the Teleconferece room at 10am & 2pm followed by Adwords Best Practices & Google Plus Best Practices respectively by Darcy Knapp, Google Certified Partner. The seminar schedule offers a variety of topics from Social Media to Disaster Recovery, Copyright and Accounting to Business Funding, Resume writing and Networking to find a new job or career path. There are enough seminars and events to keep the small business owner, entrepreneur or job seeker busy all day.
Check out the full line up of seminars for the 2016 Event! There are seminars to help business succeed in the digital age including topics: Digital Advertising, Podcasting, App Development, Legal Issues facing businesses, Facebook & Facebook Advertising, LinkedIn Networking, YouTube Marketing. Google Presents at 10a & 2pm, Constant Contact presents at 11am, the Franchise Forum is at 1pm and the Veterans Employment Panel will be from 3pm-6pm with a mixer afterwards for the HR managers and veterans in attendance. There are businesses and recruiters ready to talk from their exhibitor tables all day. Job seekers can find a variety of businesses recruiting at the show as well as seminars on choosing the right career path and interviewing skills.
The SBA Showcase & Albany Job Fair features seminars for business owners and managers, all seminars are educational and information based. Job Seekers can find a full day of hiring tips seminars in Conference Room C. All seminars are complimentary. The SBA Showcase offers a full day of informative sessions for business and job seekers across 5 rooms.
FREE Public Admission
Please pre-register for the Google Seminars to guarantee a seat (Seating is limited)
Please register online for Exhibitor, Recruiter and Seminar space as available.