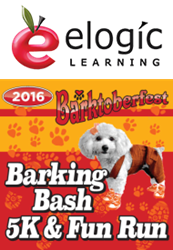 (PRWEB) August 30, 2016
eLogic Learning, a leading learning management system (LMS) provider, will be sponsoring the upcoming Barktoberfest Barking Bash 5K & Fun Run on Sunday, October 23, 2016 in New Port Richey, Fla. Proceeds from the run will benefit local pet rescue groups to better aid them in their rescue efforts.
The choice to sponsor Barktoberfest came as a result of eLogic's Bell Ringing program. For every new client or upsale, there is a bell ringing that takes place during a weekly staff meeting. An employee's name is drawn out of a hat and given the opportunity to donate to a charity of their choosing.
Katie Ulch, Marketing Director at eLogic Learning, was chosen at a recent bell ringing and was excited for the opportunity to not only help local pet rescues but also to support a fellow teammate, Tammy Carr, who will be participating in the event.
"Animal rescue is something very near and dear to my heart so when Tammy told me about the upcoming event, who it benefited and that the donation could potentially be used to secure eLogic a sponsorship spot, it was a no-brainer," says Ulch.
These types of charitable donations are just one of the ways eLogic gives back to the community. In 2015, eLogic donated thousands of dollars to dozens of local charities chosen by its employees. The company also volunteers at the annual Metropolitan Ministries' Holiday Tent.
For those wanting to take part in Barktoberfest or to learn more about the event, additional information can be found here.
About eLogic Learning
A leader in the eLearning industry, eLogic Learning offers organizations world class, comprehensive LMS technology and content solutions that save costs and increase productivity. The eLogic eSSential LMS supports over five million monthly users and was named a #1 Corporate LMS by Talented Learning, Top 3 LMS by E-Learning 24/7 and Top 20 by Capterra. The eSSential LMS makes it easy to manage eLearning, instructor-led and virtual training events, keep up with regulatory compliance requirements, analyze training usage and results, sell courses online with robust ecommerce features, and much more.
In addition to its Learning Management System, eLogic develops custom eLearning content and provides an extensive third-party courseware library. With a comprehensive turnkey approach to implementing learning strategies, eLogic offers professional services and proven expertise in content strategy, business process change and the development of corporate training programs.