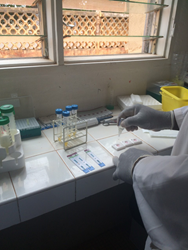 To address testing gaps towards the achievement of UNAIDS 90-90-90 goals, it is essential to prioritize improvements in medical laboratory capacity
Baltimore, MD (PRWEB) September 28, 2016
Baltimore, MD: In a recently published study in the journal PLOS Medicine, authors from Global Scientific Solutions for Health (GSSHealth), working in collaboration with researchers from the World Health Organization (WHO) and the US Centers for Disease Control and Prevention (CDC), found glaring gaps in laboratory test services for HIV that are essential to disease diagnosis and monitoring. If left unaddressed, these gaps could pose a major global public health issue, hampering efforts to reach global HIV/AIDS targets.
The study surveyed 127 countries, finding that while most countries have developed adequate capacity to perform CD4 testing (an important measure of immunological health), many countries lack sufficient resources to provide at least one viral load test (to assess treatment effectiveness) per year as recommended by WHO [1]. In the majority of the countries surveyed, including low- and middle-income and HIV-high burden countries, technologies for CD4, viral load and early infant diagnosis (EID) are underused. Factors contributing to underutilization of equipment include inadequate installation, insufficient maintenance, reagent shortages, and lack of available and adequately trained staff, all of which are tied to the global problem of underinvestment in laboratory medicine.
In 2014, the Joint United Nations Programme on HIV/AIDS (UNAIDS), with support of national stakeholders and partner organizations, made the bold commitment that 90% of people living with HIV/AIDS (PLHA) receive a diagnosis, that 90% of those diagnosed initiate antiretroviral therapy (ART), and 90% of PLHA on ART achieve viral suppression (indicating a very low level of HIV in the blood) by 2020. The achievement of 90-90-90 targets could prevent millions of new infections and save tens of millions of lives [2].
"CD4, EID and viral load testing are essential to understanding the status, progress, prognosis and treatment needs of people with HIV," says Dr. Milgotina, one of the study authors. "To address testing gaps towards the achievement of UNAIDS 90-90-90 goals, it is essential to prioritize improvements in medical laboratory capacity, personnel competencies, resource access and supply utilization at an international scale."
The findings of the study, "Availability and Use of HIV Monitoring and Early Infant Diagnosis Technologies in WHO Member States in 2011–2013: Analysis of Annual Surveys at the Facility Level," have been reported by BBC News and highlighted in a perspective by PLOS journal editors.
About GSSHealth
Founded in 2008, GSSHealth works on the frontline to improve our ability to prevent, detect and respond to diseases of global public health importance. For more information on GSSHealth, please visit our website or follow us on social media.
[1] WHO. (2016, June). Consolidated guidelines on the use of antiretroviral drugs for treating and preventing HIV infection: recommendations for a public health approach – second edition.
[2] UNAIDS (2014, October 8). 90–90–90 - An Ambitious Treatment Target To Help End The AIDS Epidemic.