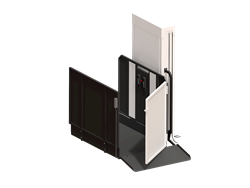 Although the TTL750 was a great step forward we have spent a great deal of time to make further improvements
Edmonton, Alberta, Canada (PRWEB) August 28, 2016
The Trust-T-Lift brand has represented excellence in this space for over 25 years and with this latest set of product enhancements RAM has again shown its dedication to improving the lives of people with mobility challenges and listening to the feedback of the dealers and installers who work with our equipment offerings.
This latest release is affects the TTL750 and has a number of benefits over previous offerings some of the improvements are:

Improved platform and carriage stiffness
Ability to mount a carriage gate safety devise with a swing direction on either side
Polymer based under platform safety pan device that will eliminate corrosion in this area
Improved installation and assembly of the carriage for lifts that are placed in shafts by optimizing locations for fasteners
Reduced weight of carriage components
Relocation of UPS (uninterruptable power supply) for commercial units to the top of the lift for easier installation and improved aesthetics
Additional, Patent Pending, options for access to the Emergency Manual Crank (See it Here)
"Although the TTL750 was a great step forward we have spent a great deal of time to make further improvements to this product and the best part is our prices for the equipment have not changed," said Graham Kawulka of RAM Manufacturing Ltd. "This a great opportunity to help folks that have mobility issues with a new and improved product that we hope will be welcomed by our dealers and the end users as we move to full production in the coming weeks."
Become a dealer or get a quote today by visiting us on the web.
Established in 1987, RAM Manufacturing Ltd. (http://www.trustram.com) has been in business for 25 years and supplied more than 15,000 installations across North America. RAM is Headquartered in Edmonton, Alberta, Canada and works with a multi-channel dealer network to support sales and installation services across North America.