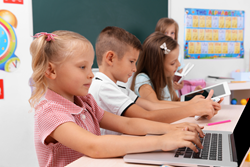 As students ride the bus, hurry between classes and interact on the playground, their school-sponsored laptops and tablets are unknowingly in danger.
Dublin, Ohio (PRWEB) August 29, 2016
Back to school season is a time of new school supplies and new adventures in the classroom for young students. This exciting time of year also represents an increase for potential damage to laptops and tablets for school-aged children. As students ride the bus, hurry between classes and interact on the playground, their school-sponsored laptops and tablets are unknowingly in danger.
Safeware, a leading provider of K-12 product protection and extended warranty solutions, is sharing some of the true stories from students across the nation who experienced accidents that destroyed their devices. With 95% of full-coverage K-12 insurance claims being a direct result of accidental damage, and the average cost of repairs exceeding $300 in out-of-pocket expense, it's important to know the risks and how to prevent them.
Some students experience damage before the school day even begins. For example, an unlucky student in Spring Lake, New Jersey spilled their cereal bowl, filled with milk, onto their laptop that was sitting open on the kitchen table during breakfast. Another student in Clayton, Ohio dropped a dumbbell on his iPad, shattering the screen, during an early morning workout for a school sport.
These types of accidents are all-too-common, and the best ways to protect against them are to know what can happen and find ways to avoid risky situations. Here are a few helpful back to school tips to keep K-12 technology up and running.
First, avoid having food and beverages near the device. Liquid and food damage is a very real problem for accident-prone youth. For example, a student in Columbia, South Carolina, fell asleep during a study break while drinking a milkshake. He awoke to find his device covered in melted ice cream that had seeped through the keyboard and into the hard drive.
Second, keep an eye on the device. A student in Tenino, Washington found out what can happen when you don't; his toddler sister threw his new Chromebook out of the living room window breaking the screen.
Other tips to consider include: Putting a case on the device, using a screen protector, avoiding extreme temperatures, and storing the device securely while on the go. While these tips may not prevent all accidents, they will go a long way in protecting students' technology and reducing unexpected costs to schools and parents. Take the example of a busy parent from Modesto, California who recently forgot she placed her child's Chromebook on top of the car and drove away. It may not have ended well for that Chromebook, but by following the tips provided by Safeware, K-12 technology has a much better chance of surviving the school year.
About Safeware
Having pioneered the technology insurance industry in 1982, Safeware is now one of the most recognized names in product protection. Safeware's innovative approach to insurance and extended warranty solutions has propelled the company into multiple industries including education, corporate technology, fitness, furniture and appliances. By allowing partners to customize coverage based on their unique needs, Safeware provides best-in-class programs allowing customers to own their products with confidence.
Learn more about Safeware online at http://www.safeware.com or by calling 1.800.800.1492.