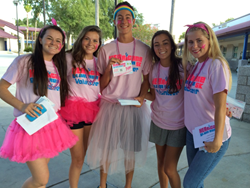 Anything we can do – generating awareness, raising money, honoring the memory of those who lost their battles with cancer – it's all worth fighting for.
Palm Harbor, FL. (PRWEB) August 29, 2016
Palm Harbor University High School (PHUHS) has one of the few medical magnet programs in Pinellas County. Known as the Center for Wellness and Medical Professions (CWMP), the CWMP will be holding the Glam 5K charity race on October 8, 2016 to raise funds for awareness of breast cancer and the medical magnet program. The race, in its third year, will be held at Pop Stansell Park in Palm Harbor at 8:00 a.m.
About 1 in 8 U.S. women (about 12%) will develop invasive breast cancer over the course of her lifetime. In 2016, an estimated 246,660 new cases of invasive breast cancer are expected to be diagnosed in women in the U.S., along with 61,000 new cases of non-invasive (in situ) breast cancer. Today, there are more than 2.8 million women with a history of breast cancer in the U.S. This includes women currently being treated and women who have finished treatment. Breast cancer death rates have been decreasing since 1989. This is thought to be because of treatment advances, earlier detection through screening and increased awareness (1).
October is breast cancer awareness month and through raising awareness and funds for charity, CWMP hopes to help make a difference. "It's a team effort from National Honor Society students, CWMP students, administrators and teachers", said CWMP Booster Club Race Director, Gina Kugler. "Anything we can do – generating awareness, raising money, honoring the memory of those who lost their battles with cancer – it's all worth fighting for."
A portion of the proceeds from this year's event will support Florida Hospital North Pinellas' catered seminar based on the Taking Care of Your "Girls" program. This effort helps to empower high school girls with an increased knowledge of breast health and the importance of early detection. All Palm Harbor University High School female students will be invited to attend the seminar. PHUHS's medical magnet program has been very successful at producing successful graduates – many of whom go on to careers in the medical field. CWMP seniors all participate in clinical activities within healthcare facilities as training for future medical careers. CWMP students are also very community oriented, CWMP seniors have volunteered over 100,000 hours as well as participating in charity events through Health Occupation Students of America (HOSA) club (2).
"Our CWMP students are the healthcare professionals of tomorrow," said PHUHS Principal Dr. Christen Gonzalez. "They're active in the community and this breast cancer run is just another example of how they're the leaders and constantly working to do good in the world."
Men and women of all ages and abilities are welcome to register for the race, which you can run or walk. To register, go to http://www.LocalRaces.com. The race director can be reached for questions at PHUHSmm5K(at)gmail(dot)com.
1. "U.S. Breast Cancer Statistics." Breastcancer.org. Breastcancer.org, Web. June 23, 2016.
2. "Palm Harbor University High." Center for Wellness & Medical Professions / Several Pages to Account for Information. PCSB, n.d. Web. June 2016.