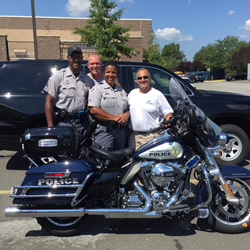 Suitland, Maryland (PRWEB) August 29, 2016
Andrews Federal Credit Union recently sponsored the Mid-Atlantic Police Motorcycle Rodeo. The event was the "brain child" of Corporal A.D. Johnson, a motorcycle police officer with the Prince George's County Police Department, Prince George's County Maryland.
During the rodeo, the competitors support their local charity to help raise awareness and funds to support the regions families who are going through a difficult time.
"It's always a privilege to support an initiative such as this which gives back to those families who are less fortunate," said Stan Koussis, Community Development Manager. "It also provides a great way for the police and the communities they serve to connect on another level."
Proceeds from the event go to C.O.P.S. (Concerns of Police Survivors) and the Make-A-Wish Foundation. To date more than $295,000 has been donated.
About Andrews Federal Credit Union
Andrews Federal Credit Union was founded in 1948 to serve the needs of military and civilian personnel by providing a vast array of financial products and services. With over $1 billion in assets, Andrews Federal has grown to serve more than 116,000 members in the District of Columbia, Joint Base Andrews (MD), Springfield, Virginia (VA), Joint Base McGuire-Dix-Lakehurst (NJ), and military installations in central Germany, Belgium, and the Netherlands. In addition, the Credit Union serves as a financial partner with many select employee groups in Maryland, the District of Columbia, and New Jersey.
To learn more about Andrews Federal Credit Union and its community involvement, or to become a member, call 800.487.5500 or visit http://www.andrewsfcu.org.