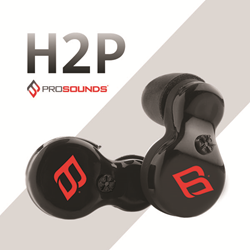 Our goal was to raise $25,000 for the H2P, so we're very excited to see the response from backers for this affordable, reliable hearing device
Draper, Utah (PRWEB) August 26, 2016
After raising nearly $300,000 for its Hear-to-Protect (H2P) hearing device on the crowdfunding site Indiegogo over the last two months, ProSounds President and Innovator Weston Harris has announced that consumers will have additional time to purchase the H2P at discounted pricing as crowdfunding continues on Indiegogo InDemand.
"Our goal was to raise $25,000 for the H2P, so we're very excited to see the response from backers for this affordable, reliable hearing device," Harris said. "With 48 million in the U.S. who have some degree of hearing loss, there are literally millions of people who could benefit from using the H2P today and, more importantly, those who work in loud work environments who could use it to prevent hearing loss in the future."
Axil, a leader in producing hearing protection devices exclusively for hunters through its SportEar Brand for many years, introduced the H2P specifically to bring that same level of technology to the consumer market with the ProSounds H2P – a high-performance hearing device for people who work in potentially hearing-damaging environments such as manufacturing and construction – or even musicians and racing pit crew workers.
Also, while the standard hearing aid can cost $2,000 or more, the new H2P can help people improve and protect their hearing by as much as six-times for less than $300 during the crowdfunding campaign.
H2P protects the inner ear by automatically blocking out any noise exceeding 85 decibels, with various foam and silicone tips that are used to reduce the damaging levels of noise by up to 30 decibels. Even with protective tips and digital noise reduction, H2P's digitally-enhanced, high-fidelity surround sound ensures conversations and other useful noises can be heard easily. By combining the latest technology in an earbud that's less than a quarter-inch thick, the H2P provides users with total comfort, performance and complete control over their level of hearing enhancement and protection in any situation.
The H2P fits snugly in the concha or "bowl "of the external ear, with the tip sealing the ear canal. They come with three unique tips: foam, silicone and tulip tips. The foam tips offer maximum levels of hearing protection, and the silicone tips offer superior comfort.
For people who are concerned with only sound enhancement, the tulip tips are designed to fit in the ear canal without sealing it completely – which leaves the ear open to receive natural sound while H2P digitally enhances sounds that are out of range of the user's natural hearing level. The tulip tip is exclusively for sound enhancement and does not provide hearing protection.
Additional features include:
● 100 percent Lynx Digital Ear, which can boost hearing up to six times normal levels
● Digital Compression Hearing Protection of any noise exceeding 85 decibels
● 30 decibel noise-reducing foam tips
● Silicone tips rated for 24 decibel noise reduction
● Tulip Tips for total hearing enhancement
● A sleek design that is virtually invisible when worn properly
According to the Hearing Loss Association of America, about 60 percent of the people with hearing loss in the U.S. are either in the work force or in educational settings today – with one-in-three people in the country suffering with some degree of hearing loss by age 65.
The ProSounds H2P is available on Indiegogo InDemand for a limited time at pricing starting at $299 -- $200 off the suggested retail price. For more information, and to preorder ProSounds H2P, visit Indiegogo InDemand.
About ProSounds
ProSounds is dedicated to designing and manufacturing innovative hearing devices to improve the lives of individuals by offering unmatched hearing protection and enhancement products. On a daily basis, their highly skilled engineers, technical and sales associates demonstrate their vision for product excellence, superior service, unconditional integrity and customer value. For more information, visit [http://axilpro.com/prosounds.