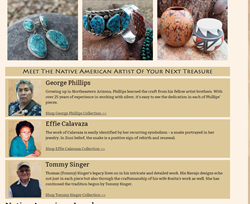 We wanted to give our fans something new to enjoy along with our updated system that makes browsing effortless.
(PRWEB) August 27, 2016
September marks the beginning of Native American Heritage Month and corresponding with this nationally recognized holiday, NativeAmericanJewelry.com is releasing their new Native jewelry collection and a convenient new system to find the best artists the company represents. Guests can also browse jewelry by tribe as well with this convenient new function.
NativeAmericanJewelry.com has been supporting the Native community for years and they are proud to unveil the complete redesign of their site, featuring more of what people love. Genuine Native American art and jewelry is the main feature of this company. They meet with artists from different tribes to bring a collection of unique and culturally stunning art to the forefront of the industry.
The spokesman of the company, Steven Onida, issued a few comment with the companies new release. "Early last year we decided to make our site more user-friendly, so we listened to what our customers wanted and made that the focal point of this relaunch. People can find our top artists on the home page and find their latest creations from there. We have also been working with our artist to produce an entirely new collection of jewelry for each artist. We wanted to give our fans something new to enjoy along with our updated system that makes browsing effortless."
The company's new system conveniently displays the artists they represent and links to pages compiled of that artists work.
Among their collection, people can expect to find new silver belt buckles and rings from Hopi artist George Phillips.
One of NativeAmericanJewelry.com's most acclaimed artists, Effie Calavaza, has also produced some new outstanding pieces of turquoise and coral jewelry that showcase her natural gift with silverwork and stonecutting.
Others can enjoy the silver and gold talents of Navajo duo artists, Tommy and Rosita Singer. Their work with inlay and overlay styles of silversmithing are truly something to behold.
Onida believes that this collection has something for everyone. Whether they are long-time fans of the site or people that are new to the site, the team at NativeAmericanJewelry.com are confident that their new selection will give the general public the opportunity to experience Native American culture in a new and exciting way, along with finding beautiful jewelry pieces as well.