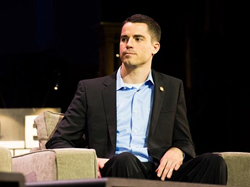 'As a long time user of Private Internet Access, I'm thrilled to be able to be directly contribute to a company that shares such similar values to my own.' - Roger Ver
Los Angeles, CA (PRWEB) August 29, 2016
Private Internet Access, the world's leading VPN service, welcomes Roger Ver as the first member of its Board of Advisors, effective immediately. Often referred to as "Bitcoin Jesus," Roger Ver is CEO of MemoryDealers.com, one of the first businesses in the world to accept Bitcoin, and also owns and operates Bitcoin.com. Ver also serves as the Chairman of the Cryptocurrency Advisory Council of the soon-to-be John McAfee Global Technologies, Inc.
Besides being an investor and influencer in the space, Roger Ver is also one of the leading bitcoin philanthropists, having donated thousands of BTC over time to various charitable causes. Besides personally donating a record 1000 bitcoins (then valued at over 1 million USD) to the Foundation for Economic Education, Ver has also supported AntiWar and FreeRoss with generous matching donations. Ver explained his reason for joining PIA:
"As a long time user of Private Internet Access, I'm thrilled to be able to be directly contribute to a company that shares such similar values to my own."
As a long time supporter of Bitcoin, a privacy conscious currency, Roger Ver is a natural fit for Private Internet Access's Board of Advisors. The Private Internet Access Board of Advisors will help steer PIA's digital currency related decisions as Bitcoin and other blockchain technologies change the world. Ted Kim, CEO of London Trust Media, said:
"We are honored and thrilled to officially welcome Roger Ver to Private Internet Access. Roger has been an invaluable friend and colleague since the early days of PIA - when we were one of the first companies to start supporting and accepting Bitcoin. Roger has a strong background in privacy and encryption and we look forward to expanding our relationship in the coming years."
About Private Internet Access (PIA)
Private Internet Access, made by London Trust Media, is the leading no-log VPN service provider in the world. PIA believes that access to an open internet is a fundamental human right and donates effusively to causes such as EFF and FFTF to promote privacy causes internationally. Based out of North America, PIA has over 3300 servers in 24 countries that provide reliable, encrypted VPN tunnel gateways for whatever the use case. Please visit their website at https://www.privateinternetaccess.com for more information.
Connect with Private Internet Access
Facebook: https://www.facebook.com/privateinternetaccess/
Twitter: https://twitter.com/buyvpnservice