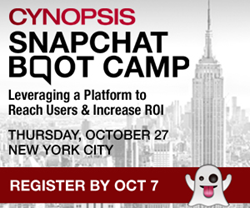 New York, NY (PRWEB) August 29, 2016
Cynopsis is holding a Snapchat Boot Camp on Thursday, October 27 in New York City. This event is programmed to be an educational springboard for media professionals looking to leverage Snapchat. Starting at 9 a.m. and ending at 3:00 p.m., the highly-focused training will provide insights, strategies and hands-on practice to help media professionals get up to speed with the hottest social media app. Advanced rates end October 7, register your team now to save.
More information can be found at: cynopsis.com/events/2016-snapchat-bootcamp
Sessions will cover everything from "A Media Pro's Intro to the Basics of Using Snapchat," "Building a Snapchat Game Plan for a Media Brand" to dedicated time on "Measurement & Metrics." The second half of each session will be an interactive clinic – allowing attendees to implement the strategies they've learned in each segment. The boot camp will also feature ample opportunities for networking and group work.
Also included: lunch, executive summary, raffle and much more. The advanced rate ends on October 7, so reserve your spot soon. For registration questions, contact Jenn Ocampo at jenn(at)cynopsis(dot)com or go to cynopsis.com/events/2016-snapchat-bootcamp. For sponsorship information, contact VP of Sales and Marketing, Mike Farina at mike(at)cynopsis(dot)com.
About Cynopsis Media:
Cynopsis Media is what the TV industry reads first every day. The Cynopsis family of products includes the media industry's most-read daily, Cynopsis, plus sister dailies Cynopsis Digital and Cynopsis Sports, the Cynopsis Jobs board and special reports. Serving TV, agency and brand professionals, Cynopsis Media produces conferences, webinars, and awards programs that are second to none. Find out more at cynopsis.com.