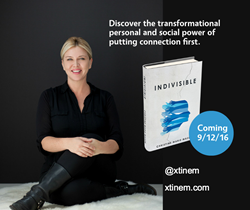 I used to think that the traumatic things that happened in life were a curse, but I was wrong. Now I see these experiences as preparing us to serve.
SAN FRANCISCO, California (PRWEB) September 06, 2016
Why does violence exist? Why does society emphasize the differences between people—to the point of social and political vitriol—rather than collaboration?
Ever wonder if something in people's biology or culture leads to separation—and therefore, a callous view of others that makes it easier to hurt them? Is it possible that each person contributes daily to this disconnection?
A new book by Christine Mason, tech founder and CEO, chronicles her personal journey to understand violence and the soul. The book, "Indivisible: Coming Home to Our Deep Connection," is available September 12 on Amazon in hardback, paperback and Kindle editions.
From Orlando to Dallas to Munich, "Indivisible" comes after a gut-wrenching year when the world has seemed breathtakingly overcome by violence and human brokenness—and yet new technology connects people to each act of horror in a way like never before. Mason's book suggests the way people live and work together today is new in human history, and a redesign of systems won't be coming quickly from the body politic or the voting booth. While waiting for those mountains to move, Mason says, "we can make the choice to create change in our own lives and our own immediate surroundings."
Mason works for restorative justice and victims' rights in California correctional institutions with Insight Out. She says, "I used to think that the traumatic things that happened in life were a curse, but I was wrong. Now I see these experiences as preparing us to serve. At some point, we have to do our own forgiveness work and commit to owning better outcomes in our lives and communities- to not being part of the ongoing cycle of disconnection."
Mason knows violence and disconnection firsthand. When she was young, her mother was murdered, and found dead in a cornfield in Zionsville, Indiana. There was no funeral and no therapy. Now a successful executive and mother to six, Mason's own healing work brought her into a deep journey to understanding crime and disconnectedness.
Mason tells a highly personal story of her investigations. She placed herself in new situations where she could understand more broadly the human experience in the west today: at TED and Burning Man, in services in dozens of churches and temples and mosques, studying neuroscience and the brain, exploring fringe cultures and philosophies, crying with life-eligible inmates in a maximum security prison, teaching yoga in a fighting gym--while dealing with the daily questions of learning how to love and work better, through child rearing, company building, illness and financial stress. Her goal throughout: ask questions in as many different ways as possible.
"Indivisible," published by Mt. Tamalpais Press, chronicles her journey and research findings in stories and data. It includes six thought-provoking chapters addressing issues of self love, connectedness, community, mindfulness and restorative justice.
"Anger and violence are extreme expressions of daily alienation from ourselves and each other," Mason says, "but through this book I hope readers will learn how to reclaim the core connection we are born for. We can evolve to a better place, individually and together."
For more information on "Indivisible," including a free sample chapter, more information about Mason, advance praise, press coverage, and purchasing information, visit http:// http://xtinem.com/books-and-media.
About the Author
Christine has been a leader in the tech sector for 20 years, as the venture backed founder and CEO of several companies. She has always been a convener, bringing people together to have conversations around growth and change, and to spark connection and action around new possibilities. She is the curator of 9 TEDx talks, the convener of Naked Conversations and founder of LoveSpring. Christine holds a BA and MBA from Northwestern University. She served in the US Army ROTC program through the University of Illinois at Champaign-Urbana. She has lived and traveled all over the world, and speaks French and German. She is a yoga teacher, artist, musician, mother of 6 and grandmother.
Christine is an advocate for reclaiming connection, transforming anger and violence, inclusion and the redesign of culture. Her own deep journey exploring anger, violence and disconnection in the aftermath of her mother's murder, early abandonment and general chaos propelled her to explore the interior life and capacity of the individual to heal and connect. She has become a victim's rights advocate for restorative justice and prison reform. Her mission to heal includes being a tireless investigator into the neuroscience of love, violence, human evolution and behavioral change.
Indivisible: Coming Home to Our Deep Connection
By Christine Marie Mason
Mt. Tamalpais Press
September 2016
Hardcover, $21.95; 216 pages
Paperback, $16.00, 220 pages
Kindle, $7.99
978-0-9977277-0-8