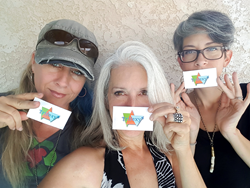 Trifexy's work shows contemporary feminine views of the world. This is important because Exquisite Corpse is a practice long dominated by male artists, particularly in the early Surrealist circle.
Las Vegas, Nevada (PRWEB) August 30, 2016
Twisted Art Gallery is delighted to present The Unfolding, a one-of-a-kind exhibition featuring the artist collective Trifexy. This groundbreaking show will debut a never-before-seen series of exquisite corpse artworks, revealed for the first time even to the artists, during the opening on Thursday, October 6, 2016. The exhibition runs through October 22nd, with an Artist Talk on October 13 at 7:00 P.M.
So, what is an exquisite corpse? Historically, it's an artistic technique invented by the Surrealists who wanted to access parts of the mind repressed by societal rules. Without a preconceived notion of the final image, the participants produce a collective drawing or collage by folding the paper and adding images or patterns, allowing a fantastical parade of hybrid creatures and unexpected juxtapositions. The results are novel, exciting, unsettling, and at times resplendent with desire.
About Trifexy
Formed by contemporary artists Omayra Amador, Kim Johnson, and Nancy Good, the Trifexy team came together to push the boundaries of creativity, trust, and comfort and from this collaboration emerged these truly exciting pieces. This rare project includes six mixed-media works made through the process: each artist added their section in secrecy, without seeing that of the other two. Trifexy's project has been hailed as an inventive contemporary interpretation of the early 20th century Surrealist artistic game:
"We have seen manifestations of this modernist technique such as that of the Chapman Brothers. However, Trifexy's project is exciting not only as part of this contemporary movement that adopts and reconfigures traditions from Surrealism, but also because Trifexy's work shows contemporary feminine views of the world. This is important because Exquisite Corpse is a practice long dominated by male artists, particularly in the early Surrealist circle, with the exception, perhaps of Remedios Varo." (Rosa JH Berland, Art Historian, New York)
The Trifexy artists are united by an interest in artistic inquiry, pushing the boundaries of medium, working in the studio and out, and using art as a way to tap the unconscious. Come see this new work revealed for the first time, take part in the game of chance, and discover and experience the power of artistic energy and collaboration. http://www.trifexy.com
About the Artists
Omayra Amador or Milk the Bunny works in diverse media including mural painting, installation, street art, illustration, and atelier painting. Constantly investigating the limits of medium, Amador's contemporary work has a bold graphic quality inspired by the work of Keith Haring. Of this special project, Amador notes: "The spirit of the collaboration is to bring your own flavor and have fun while you're doing it, much like living out your dreams and creating a path that is uniquely your own." The artist's command of pop culture imagery, tone, and the principles of illustration and composition have earned her a considerable cult following. Amador is best known for her "rabbit" painting. In these works, she paints a "bunny" in the style of a naturalist illustrator, set against a geometric or painterly background or even an urban wall. Other popular works include street art starring a bunny-human hybrid, or even more charming a rabbit-unicorn hybrid. The innovative artist has received various public commissions, conceived installations, and participated in numerous group exhibitions as well as and holds her H.E.O.P. Scholars Award, The New School University.
Kim Johnson's 'StrangeDays and Stardust' experimental work focuses on uncanny imagery and texture, a contemporary interpretation of the traditions of Surrealism. The artist's paintings, sculptures, and assemblages seem to mirror her desert surroundings. With a tactile quality paramount, Johnson's accumulations and stripped natural surfaces are full of grooves, growths, punctures, all echoing the rhythms of the natural world while allowing a strangeness to evolve that resembles the space of dreams. As an artist whose practice is tied to Surrealist techniques of frottage, fumage, and decalcomania, Johnson describes the Trifexy project as "a wild experimentation project showing that artistic expression can heal, thrill and bring people together." The artist holds her BFA, University of Nevada, Las Vegas. Select awards include Juror's Choice, Juror Artist in Residence Alisha Kerlin, (2011); Best of Show, Juried Exhibition, Palettes Gallery, Think & Wonder, Inc., Las Vegas.
Award-winning artist/photographer Nancy Good is highly regarded for her technique and artistic discoveries. Good's work has been described as "transfigurative and enigmatic, suggesting disguise, secrecy, façade, and veiling." The artist is no stranger to the magic of mixing and combining elements; many of the artist's multimedia works are assemblages of photography, digital techniques, paint, and ink. Good is particularly beloved for her multimedia compositions suggesting metamorphism, hybridity, and transformation. Of the Trifexy collaboration, Good notes: "Successful collaboration demands that we set aside our egos, our personal agendas, and often our psychological comfort for the greater good of our very selves, and ultimately our art." Primarily self-taught, Good's work has been published, exhibited and collected all over the world. The artist is the recipient of various awards including Best in Show and the Inspire Award, Juried Exhibition, Think & Wonder, Inc. Las Vegas (2014); Nevada Arts Commission, Las Vegas, The Office of Cultural Affairs (2014); Professional Women Photographers Spring 2013 Competition, New York; and most recently had a piece acquired by UNLV Marjorie Barrick Museum, Las Vegas.
About The Gallery
Twisted Art Gallery is located inside The Arts Factory in the Downtown Las Vegas Arts District. The address is 107 E. Charleston Boulevard, Suite 160, Las Vegas, Nevada 89104.