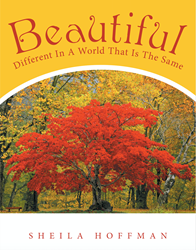 I want my children and their children to know that the faith they are living by is a faith worth dying for.
Birmingham, AL (PRWEB) August 30, 2016
In the world of drama and emotion that many girls live in, beauty is something that is often thought about. Unfortunately, the obsession with outer beauty has begun to outshine the importance of inner beauty. Sheila Hoffman hopes to inspire women of all ages to discover true, eternal beauty through God.
Hoffman's ministry, "Succeed and Lead," helps Christians succeed in their walk with Christ in order to lead others. This, along with His words inspired her to write Beautiful, a letter by letter breakdown of the word in order to discover truths in God's word that can empower and change women forever.
"We live in a world that demands excellence and perfection," Hoffman said. "Every woman, no matter the age, culture or background desperately searches for love and acceptance in this world, instead of looking toward God's Kingdom."
For ten years, Hoffman owned a cosmetic franchise where she worked with over three hundred women a day on their outer beauty. She enjoyed helping women feel beautiful, but longed for them to feel it internally.
One evening while watching a popular news program sharing statistics about the youth in our country, God pierced her heart. He asked her who would tell these young women about His plan for a future and hope if she did not. That moment she sat down and put His words to paper.
"We don't need any more churchgoers or convenient Christians. We need warriors to fight in the battle that is coming," Hoffman said. "I want my children and their children to know that the faith they are living by is a faith worth dying for."
For more information, visit http://www.hisbeautifulplan.com.
Beautiful
By Sheila Hoffman
ISBN: 978-1-51273-664-9
Available in softcover and e-book
Available on Amazon, Barnes & Noble and WestBow Press
About the author
Sheila Hoffman met Jesus as a young girl and He made all of her princess dreams come true. In the years to follow, she would discover that He had chosen her and equipped her with special gifts to grow His kingdom. With passionate teaching and infectious humor, she communicates her love for Christ and His Word to the church. The bridegroom is coming! The bride, the wife of the Lamb, must be ready.
For review copies or interview requests, contact:
Liz Vinson
lvinson(at)bohlsengroup(dot)com
812.641.5194