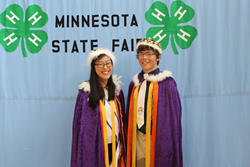 Within the walls of the poultry barn, youth engage in friendly competition with their peers while nurturing their passion for the Minnesota poultry industry.
Minneapolis, Minnesota (PRWEB) August 29, 2016
Nathan Weckwerth, a 17-year-old native of Dassel in Meeker County and Molly Lindgren, a 16-year-old from Staples in Wadena County, were granted Gold'n opportunities on Sunday, August 28, after being crowned as the seventh-annual Poultry Prince and Princess. The scholarship program of Minnesota 4-H and Gold'n Plump® recognizes the industry knowledge, leadership and skills of Minnesota's up-and-coming poultry experts by awarding two teenagers with poultry ambassador titles and $1,000 academic scholarships.
From August 25 through 28, 2016, eligible Minnesota State Fair 4-H poultry participants competed in the contest at the State Fairgrounds. Molly and Nathan stood out among the contestants, claiming the title after ranking highly in the qualifying rounds of the 4-H Poultry Interview, Quiz and Showmanship competition; the 4-H Chicken BBQ Contest; and the Q&A and Stage Presence final round. Runners up included:

Charles Miller of Kasson of Dodge County
Wyatt Tesch of Mayer of Carver County
Mariah Huberty of Harris of Chisago County
Eleanor Weckwerth of Dassel of Meeker County
"The Poultry Prince and Princess scholarship program provides 4-H youth from around the state the opportunity to convene at the 'Great Minnesota Get-Together,' " said Rory Bidinger, brand manager for GNP Company®, the company behind the Gold'n Plump brand. "Within the walls of the poultry barn, youth engage in friendly competition with their peers while nurturing their passion for the Minnesota poultry industry."
Sunday's finals required the top six contestants to showcase their poultry knowledge with strong stage presence and personality, answering questions such as "How often do most hens lay eggs?" and "How do you protect your chickens from Minnesota's heat in the summer and cold in the winter?" Last year's winners, Nathan Vonderharr and Katie Benson, were in attendance to pass on feathered crowns and royal capes.
Along with $1,000 scholarships, the Poultry Prince and Princess will have the opportunity to expand their speaking, interview and presentation skills through industry and publicity appearances during their year-long term and will receive royal portraits created by the official State Fair artist, Michael Sweere. They also had the chance to participate in the State Fair parade on Sunday.
"Minnesota 4-H is proud to see so many youth participating at the state level," said Brad Rugg, director of 4-H Fairs and Animal Science Programs, University of Minnesota Extension Center for Youth Development. "The Poultry Prince and Princess scholarship program at the Minnesota State Fair has been a staple of our Poultry Project over the past seven years and we always look forward to celebrating the state's next poultry leaders."
About Gold'n Plump Chicken®| Good Chicken is Our Mission®
Gold'n Plump® is distributed nationally by St. Cloud, Minn.-based GNP Company, a provider of premium branded and custom chicken products to retail, deli and foodservice customers. The brand's good chicken mission centers on being truly all natural, highly trimmed and free of unwanted solution, skin and parts. The Gold'n Plump All Natural line also boasts attributes of No Antibiotics-Ever and American Humane Certified. To learn more about the Gold'n Plump brand and its products as well as find great recipes, general cooking and safe handling tips and nutrition information, visit GoldnPlump.com. Follow Gold'n Plump on Facebook, Twitter, Pinterest and YouTube.
About Extension 4-H
Minnesota 4-H is an after-school youth development program provided through the University of Minnesota Extension. The 4-H mission is to engage Minnesota youth in quality learning opportunities that enable them to shape and reach their full potential as active citizens in a global community. Last year, more than 75,000 kids throughout Minnesota participated in 4-H and learned invaluable life skills. According to a 2009 report from a Tufts University national study, 4-H youth are more than twice as likely to be civically active and make contributions to their communities, and are 47 percent less likely to have risky or problem behaviors. For more information about the program, visit extension.umn.edu/youth/mn4-H.
Learn more about the 2016 Poultry Prince and Princess Contest online at http://z.umn.edu/4hpoultryprinceprincess and view photos of last year's contest and portraits at Gold'n Plump's Facebook page at http://www.facebook.com/GoldnPlump.
###