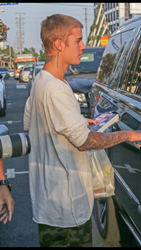 Add Justin Bieber to the growing list of readers enjoying Kody Christiansen's harrowing but ultimately inspiring new book, "Hollywood Heartbreak | New York Dreams."
Hollywood, CA (PRWEB) August 29, 2016
Add Justin Bieber to the growing list of readers enjoying Kody Christiansen's harrowing but ultimately inspiring new book, "Hollywood Heartbreak | New York Dreams." The singing Superstar was spotted on Sunset Boulevard carrying his own copy of the book while getting lunch at Subway with Sofia Richie. Candid photos were released to multiple websites including JustJaredJr.com. Questions about the book have been popping up in many retweeted Twitter posts, in numerous countries and languages, as fans are curious as to what he may be reading.
Book Summary:
"Dreams can often turn into heartbreak. Just ask Kody, an aspiring actor, musician and once famous Britney Spears impersonator. From Texas to New York to Hollywood, and back, his tumultuous journey serves as the catalyst for this sad but ultimately inspiring story of truth. Kody rose to fame when he appeared on national television as his alter ego "Sarah Summers." He immersed himself in the Hollywood celebrity culture, including heavy drug and alcohol abuse. When he fell in love with a famous rock star, his world is turned upside down. Every height Kody reached in the entertainment world was followed by stumbles into the depths of many self-imposed despairing valleys. A series of tragic events sends him back to New York where his world becomes even darker as this once vibrant and talented young person turns into a homeless alcoholic struggling through New York City's shelter system. His determination to turn his life around and resurrect his entertainment career is hard fought and awe inspiring."
Like many entertainers who quickly rise to celebrity status, Christiansen fell victim to the excesses of drugs and alcohol. For some this a prelude to the destruction of their careers. Others fight these demons on a daily basis. For Christiansen it became a matter of life or death. He chose life. Whether a celebrity at the height of his career, or a suburban housewife wallowing in despair, "Hollywood Heartbreak | New York Dreams" opens the reader's mind to the possibility of a life free from addictions where forgotten dreams can be fulfilled.
Kathryn Bennett, in her international 5-Star review for ReadersFavorite.com, reveals the powerful message behind the book: "This is not a fictional tale being told for extremes, but someone's real life. I held my breath in parts, cried in others, and laughed as well. I was joyful when Kaleb managed to pick himself up from the pit of being addicted and on the streets of New York to find life again. A true inspiration to all of us. It leaves the reader with a feeling of the ability to overcome almost anything."
Kody Christiansen looks forward to sharing his life-affirming tale to new audiences around the world through additional television, speaking engagements and print interviews. GingerNewYorkTV was the first talk show to discuss the book with the author, revealing the struggles he overcame before finding his true path to success. Christiansen states in his buzzfeed article, "Like a lot of addicts, I found myself drowning in my own poison. Every time I thought I reached the lowest depths of my addiction, I seemed to find unexplored, more dangerous, waters below. One night, I almost didn't make it back up for air." He continues later in the piece, "Sobriety brought clarity, allowing me to once again see the divine path leading to my now thriving acting and writing careers. I share openly my unique experiences involving the many facets of the New York City shelters and my struggles with addiction so that others will read it and realize, that no matter your current situation, there is always hope. If you take a chance on yourself."
Hollywood Heartbreak | New York Dreams is on sale now at:
BarnesandNoble.com:
http://www.barnesandnoble.com/w/hollywood-heartbreak-new-york-dreams-kody-christiansen/1123899324;jsessionid=7490A7214A9921C3E1C76694878E1CD9.prodny_store01-atgap01?ean=9781941969885
Amazon.com:
https://www.amazon.com/Hollywood-Heartbreak-New-York-Dreams/dp/1941969887/ref=sr_1_1?ie=UTF8&qid=1467431573&sr=8-1&keywords=hollywood+heartbreak
In store purchase at:

Book Soup, Sunset Blvd., LA, CA
The Harvard Bookstore. Cambridge, MA
McNally Robinson, Winnipeg, MB, Canada
The NYU Bookstore and McNally Jackson, New York, NY
Video - Live Video Interview with GingerNewYork at: https://youtu.be/i1ylN_Z5xOY
Buzzfeed Article: https://www.buzzfeed.com/britneyvalentine/from-destructive-substance-abuse-to-sober-success-2gghx?utm_term=.mg4w3B46m