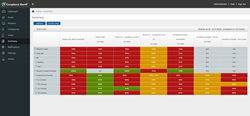 Compliance Sheriff and the rest of the Cryptzone portfolio continue to earn accolades, thanks to our unconventional approach to network and data security, and compliance. - Barry Field, CEO for Cryptzone
Waltham, Mass. (PRWEB) August 29, 2016
Cryptzone, a provider of dynamic, context-aware network security software, today announced that KMWorld selected the company's Compliance Sheriff™ web governance solution as a Trend-Setting Product of 2016. Featured in the September 2016 issue of KMWorld, Cryptzone Compliance Sheriff automates content compliance to address a wide range of web governance issues including web accessibility, privacy factors, site quality and brand integrity. The 2016 list recognizes the depth of functionality Compliance Sheriff offers to websites created with the latest dynamic web development tools, helping to ensure compliance on all end user devices and browsers.
"We are honored to be named a KMWorld Trend-setter," said Barry Field, CEO of Cryptzone. "Compliance Sheriff and the rest of the Cryptzone portfolio continue to earn accolades, thanks to our unconventional approach to network and data security, and compliance. Whatever platform an organization may be using, Compliance Sheriff assures content compliance with standards for privacy, accessibility, social computing, brand integrity, site quality and data, and information security."
Since 2003, KMWorld has issued its Trend-Setting Product award list. The judging panel uses several characteristics including usefulness, scalability and level of innovation when selecting the Trend-Setting Products.
KMWorld Editor Sandra Haimila said, "Each year we look for software products that break new territory in helping organizations achieve their knowledge management goals. These products are designed, developed and perfectly timed to fill a niche in the marketplace before users are even aware that such functionality and flexibility have been missing. Designated as the KMWorld Trend-Setting Products of 2016, these offerings hold the promise for the marketplace."
The complete list of Trend-Setting Products is featured in KMWorld's September 2016 issue and online September 1st. For more information about Cryptzone's Compliance Sherriff solution, visit: https://www.cryptzone.com/products/content-governance/compliance-sheriff.
About KMWorld
KMWorld (http://www.kmworld.com) is the leading information provider serving the Knowledge Management systems market and covers the latest in Content, Document and Knowledge Management, informing more than 30,000 subscribers about the components and processes - and subsequent success stories - that together offer solutions for improving business performance. KMWorld is a publishing unit of Information Today, Inc. (http://www.infotoday.com)
About Cryptzone
Cryptzone reduces the enterprise attack surface by 99% with its secure network access solutions. Using a distributed, scalable and highly available Software-Defined Perimeter model, Cryptzone protects applications and content from internal and external threats while significantly lowering costs. In cloud environments including AWS and Azure, Cryptzone provides user access control, increases operational agility and improves the ability to meet regulatory and compliance standards. More than 450 companies rely on Cryptzone to secure their network and data. For more information, go to http://www.cryptzone.com.
Media Contact
Jessica Ann Morris
ZAG Communications for Cryptzone
+1.781.608.0499
jessica(at)zagcommunications(dot)com