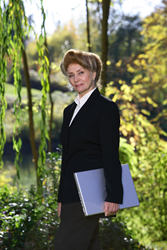 Grants Pass, OR (PRWEB) August 29, 2016
Water advocates Dr. Gerald H. Pollack, Ph.D., Professor of Bio-engineering at the University of Washington and Sharon Kleyne, founder of Bio-Logic Aqua® Research Water Life Science® discussed the scientific rebirth of water research on The Sharon Kleyne Hour Power of Water, Global Climate Change and Your Health radio program on August 22, 2016.
By the 1950s, the favorable climate for water research had practically evaporated. Funding dried up, and scientists everywhere dove into other fields of research. But in the late 80s, something happened. Sharon Kleyne founded Bio-Logic Aqua® Research Water Life Science®, and the future of water research looked sunny once again.
Dr. Pollack, who stormed against the earlier near-death of global water research, calling it "a life-threatening disaster," praised Kleyne and her research center's research in water vapor evaporation and development of advanced technology to supplement the moisture of the eye's tear film and the body's skin. By receiving the first water-related patent for the micron mist personal humidifier and developing, testing and releasing three products without comparables on the global market, Bio-Logic Aqua® Research Water Life Science® earned the enthusiastic endorsements of thousands of optometrists and physicians worldwide. According to Kleyne and Dr. Pollack, this water life science success encouraged new water research and the development of new water technology around the globe.
The three seminal products from Bio-Logic Aqua® Research Water Life Science® that have enjoyed such success in the medical field and general markets include Nature's Mist® Face of the Water®, Nature's Tears® EyeMist® and Bio-Med Wash®. "Each of these products," said Kleyne, "contains only our Trade Secret tissue culture grade water and replenishes the body's water vapor lost to evaporation due to exercise, contamination of the atmosphere by pollution and artificial environments (central heating, air conditioning) and warmer temperatures. "There would be no air to breathe without the water vapor," said Kleyne. "We need to be serious about the water crisis we face around the world," Kleyne continued, "and we must take steps to educate everyone about their Water Life Science ® responsibilities with advanced technology and new supplements to the water vapor to deal with it."
Water Life Science® is a global breakthrough to a new water lifestyle that will revolutionize health care and daily life. Soon, the hand-held personal humidifier by Bio-Logic Aqua® Research Water Life Science® will be as common in daily life as the toothbrush and dental floss.