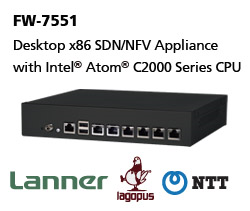 The FW-7551 is a value-conscious performance desktop network security system utilizing the cutting edge capabilities of the Intel Rangeley platform, it is targeted at UTM, Firewall, VPN, IPS, and WAN optimization applications in SMB environments.
New Taipei City, Taiwan (PRWEB) September 06, 2016
Lanner today announced that its network appliance FW-7551 has been certified to be compatible with NTT Lagopus SDN software switch. Lagopus, functioning as Open Source Software (OSS), is developed by NTT (Nippon Telegraph and Telephone Corporation) to provide a high-performance and flexible functionality suitable for data centers and wide area network applications. In the mean time, Lanner has certified Lagopus as a software switch compatible with FW-7551 and potentially Lanner's other network appliances. The exchanged co-certifications will enhance both parties to be even dynamic in the SDN ecosystem.
The release of Lagopus by NTT is considered as an initiative to expand OSS-based SDN ecosystems by NTT. In recent years, the network virtualization is intensively discussed due to its high flexibility, scalability and investment optimization. By taking the software-oriented approach instead of a hardware orientation, Lagopus conforms to OpenFlow specifications and supports a wide range of mainstream network protocols in order to improve serviceability and stability. With DPDK, Lagopus is able to deliver high performance for SDN applications.
Lanner, a global leader in network appliance manufacturing, has its FW-7551 certified as NTT Lagopus compatible software switch. During the process, Lanner also certified NTT Lagopus SDN virtual switch on its hardware platform for its usability and stability. The co-certification will enhance both parties to be even dynamic in the SDN ecosystem.
Lanner's FW-7551 is an Intel x86 based desktop appliance, empowered by Intel Atom CPU C2000 SoC up to 8-core and 8GB 1333/1600 DDR3 memory. As an ideal hardware device for SDN application, FW-7551 comes with built-in Intel QuickAssist crypto acceleration as well as full DPDK compatibility. With co-certification, the innovated NTT Lagopus vSwitch and Lanner FW-7551 will optimize the potential realize SDN/NFV-enabled network environment and shorten the system integrator development time in SDN applications.
For more information on the new hardware device for SDN applications, please visit http://www.lannerinc.com
About Lanner Electronics Inc.
Lanner Electronics Inc. (TAIEX 6245) is a world-leading hardware provider in design, engineering, and manufacturing services for advanced network appliances and rugged industrial computers.
With 30-year experiences, Lanner provides reliable and cost-effective computing platforms with high quality and performance. Today, Lanner has a large and dynamic manpower of over 800 well-experienced employees worldwide with the headquarters in Taipei, Taiwan and subsidiaries in the US, Canada, and China.