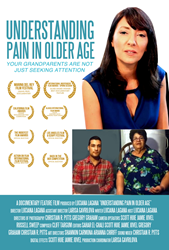 ... we all have valid emotions and I dread to think that someday I and the pain I feel would be cast aside by the younger generations (Arianna Chiriff)
Hollywood, California (PRWEB) August 29, 2016
UNDERSTANDING PAIN IN OLDER AGE, the first feature documentary of California State University Northridge (CSUN) psychology professor and filmmaker Luciana Lagana has received another award, this time at the Alaska International Film Awards, where it won the Northern Lights Emerging Talent Award.
Prof. Lagana is passionate about informing the public about serious social topics - many of which are hard to cover in ways that are entertaining and engaging. In this film, she manages to make her audience smile with her humorous style as she interviews various experts on the challenges of managing physical pain in older age. The movie also includes several clips in which older adults living with chronic pain tell their stories. "So many health professionals are working very hard to reduce pain in older age. I am very thankful to the pain experts I interviewed for this documentary and wish to extend my gratitude to the older interviewees who shared their stories in my film," stated Dr. Luciana.
Why should the topic of experiencing pain in older age be covered in films? How is this topic relevant to younger generations? Some of the youngest contributors to the movie, all in their early to mid 20s, are passionate about this issue. Among them, assistant director Larisa Gavrilova believes that the area of pain in older age should receive more media attention. She is a former CSUN student who is currently in the Health Psychology Ph.D. program of the University of California Merced and is pursuing research on the quality of life of vulnerable health populations. Larisa is also one of the researchers on a study in progress at CSUN aimed at testing whether watching this feature documentary has potential anti-ageism and empathy-enhancing effects. She commented that, "pain in older age is something most people will eventually experience. This important issue is unfortunately underrepresented in the media. When creating this film, our goal was to shed light on this topic and create general awareness."
Art Director Shannon Carmona, who created some of the movie's illustrations, pointed out that "old age is coming to us all. It is hugely important that the younger generations are comfortable with this concept, so that we can be more accepting of the struggles of people of all ages. Getting old should not be a foreign concept for anyone, and that's one of the reasons why the topic of aging should be covered in films." In conclusion, Art Co-Director Arianna Chiriff shared that, "pain in older-aged people is often ignored, perhaps because we assume that older adults have amassed enough strength over the years that they are somehow invincible to distress. This is not true; we all have valid emotions and I dread to think that someday I and the pain I feel would be cast aside by the younger generations."
Written by Stefanie Friesen
Luciana Lagana is a caring clinical and experimental psychologist. She is also an established professor of psychology, gerontology, women's health and sexuality at CSUN, where she teaches classes and mentors many undergraduate and graduate students. Additionally, since 2002, she has been conducting government-funded research on the physical, psychological, sexual and social health of ethnically diverse, primarily low-income older women. Since 2006, she has also been pursuing her creative endeavors by studying acting, TV and radio hosting, screenwriting, directing and producing in Los Angeles. She has over 50 IMDb credits for hosting and acting in many independent feature films, TV pilots and web series as well as several credits for her award-winning screenwriting, directing and producing. She is the writer/lead actor/director/producer of the 2014 award-winning fictional web series INTIMATE TEMP AGENCY, which also won Best Trailer at the 2015 Academy Award-Qualifying Hollywood Reel Independent Film Festival. Her 2014 DR. LUCIANA SHOW – AGING AND FALLING web series won numerous awards, including Best Educational Show at the 2015 WorldFest-Houston International Film Festival. Within the past year, she wrote, hosted, directed and produced three award-winning social impact feature documentaries, UNDERSTAIND PAIN IN OLDER AGE, LGBT UNITED and AGING AND FALLING, which are currently on the film festival circuit.