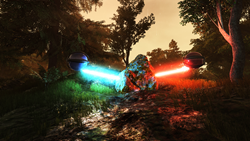 Alpha Decay is basically a crossover between Halo and Age of Empires.
Flensburg, Germany (PRWEB) August 31, 2016
Two Headed Monkey UG has announced that 'Alpha Decay' will launch on Steam September 2nd 2016 after getting 'greenlit' in August.
Alpha Decay is a crossover between First-Person Multiplayer-Shooter and basebuilding, where the goal is to destroy the enemies base while the player defends and build up its own. Each team has a core that needs to be defended. Together with a team of four the player gathers resources to further build up the base. Different types of buildings allow different strategies, like forging powerful guns for the team or attacking the opponent with airstrikes.
Besides battling against other players, the biggest danger is the ongoing radioactive decay that is slowly devouring the core. Once the core reaches a certain level of decay it will explode and take the entire base with it.
"We got tired of modern First-Person Shooters that only focus on how quick you can shoot people in the shortest amount of time. That's why we wanted to create a shooter that still contains the action and adrenaline you get from modern FPS, but enhance it with strategic decision-making. Alpha Decay is basically a crossover between Halo and Age of Empires," says Two Headed Monkey CEO Oliver Stolpmann.
The game's core features:

4vs4 online multiplayer shooter
Procedurally generated levels
Teambased gameplay - You and your teammates need to build up the base cooperatively!
Gather and manage resources
Fight against the decay as well as other player
Thousands of different building and weapon combinations
Upgrade your guns and character
Day and night cycle with dynamic weather system
Get new weapons through boosters
Alpha Decay will be released through Steam Early Access on September 2nd for Windows PC. To learn more about the game visit our Steam store page.
About Two Headed Monkey
Two Headed Monkey is a gameplay focused indie game studio based in Flensburg, Germany. Our goal is to create high-quality indie games that focus on unique game concepts that deliver a new experience for the player.
Contact info
Two Headed Monkey CEO Oliver Stolpmann
contact(at)twoheadedmonkey(dot)net
Presskit: http://alphadecaygame.com/index.php/ad-presskit
Steam: http://store.steampowered.com/app/513970
Twitter: https://twitter.com/TwoHeadedMonkey