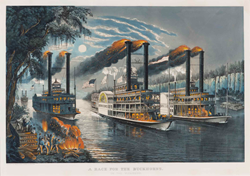 Nathanial Currier and James Merritt Ives forever changed the American landscape by mass producing inexpensive lithographs.
Wilmington, Delaware (PRWEB) August 30, 2016
Winterthur Museum, Garden & Library announces, "Lasting Impressions: The Artists of Currier & Ives," an exhibition of some of today's most sought-after works that will explore the role of Frances ("Fanny") Bond Palmer (1812 - 1876) and Arthur Fitzwilliam Tait (1819 - 1905), two of the most prolific artists for the iconic publisher of Christmas cards and Americana, September 17, 2016 -- January 8, 2017.
Perhaps best known today for their enchanting Christmas cards, Currier & Ives became synonymous with idealized images of 19th-century American home life after opening in 1834.
Through the more than 40 carefully selected works of art along with multimedia installations, "Lasting Impressions" will explore the work of Palmer and Tait in an art world where both artist and publisher invited Americans to reconsider their notions of artistic creation. Among the many recognizable works that will be on display are: The Champions of the Mississippi. "A Race for the Buckhorns"; The "Lightning Express" Trains. "Leaving the Junction"; American Express Train; The Life of a Hunter. "A Tight Fix"; "Wooding Up" on the Mississippi; Preparing for Market; and Life on the Prairie: The Buffalo Hunt.
"Nathaniel Currier and his partner, James Merritt Ives, forever changed the American landscape by mass producing inexpensive lithographs and selling millions of copies that were joyfully displayed in homes, businesses, public buildings, and more," said J. Thomas Savage, Winterthur Director of Museum Affairs. "Winterthur is delighted to exhibit these carefully curated, treasured Currier & Ives prints from our collection along with many stunning works generously loaned to Winterthur."
"Currier & Ives became synonymous with much more than just art depicting 19th-century life in America. It encapsulated the very idea of the American way of life," said Stephanie Delamaire, Winterthur Associate Curator of Fine Arts and Curator of Lasting Impressions. "By chronicling the history of the period in their distinctively unique style, their prints have become a touchstone for people everywhere of what it meant to live in 'white picket fence' America."
"Lasting Impressions" also will be a part of the "Yuletide at Winterthur" tour, November 19, 2016 -- January 8, 2017.
For more information, please visit the Winterthur website at Winterthur.org or call 1.800.448.3883.