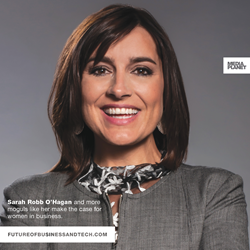 (PRWEB) August 29, 2016
Sarah Robb O'Hagan, founder and Chief Extremer at ExtremeYOU, is featured on the cover of the print campaign. "We need to figure out how to balance the support systems equally, around both men and women, if we are going to see both genders realize their full potential in the top executive ranks," she says. In light of O'Hagan's stacked resume and impressive professional titles, she stresses the importance of learning from you mistakes, and how you have to fall a few times to get where you strive to be.
The print component of "Women in Business" is distributed within the August 29 regional circulation of USA Today, with a circulation of approximately 250,000 copies and an estimated readership of 750,000 within the New York, San Francisco, Chicago, Minneapolis, Houston and Boston markets. The digital component is distributed nationally, through a cast social media strategy, and across a network of top new sites and partner outlets. To explore the digital version of the campaign, click here.
This edition of "Women in Business" was made possible with the support of UN Women, the National Association of Women Business Owners, The National Association of Women MBAs, HSCB, Mary Kay, Jessica Herrin of Stella & Dot, Sarah Rob O'Hagan of EXTREME YOU, the University of Connecticut, Louisiana State University, University of Wisconsin Consortium, Robert H. McKinney School of Law – Indiana University, and the Healthcare Businesswomen's Association and many more.
About Mediaplanet
Mediaplanet is the leading independent publisher of content-marketing campaigns covering a variety of topics and industries. We turn consumer interest into action by providing readers with motivational editorial, pairing it with relevant advertisers and distributing it within top newspapers and online platforms around the world.