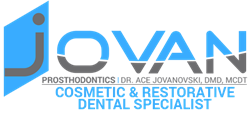 Round Rock, Texas (PRWEB) August 30, 2016
Jovan Prosthodontics, a locally owned and operated cosmetic and restorative dental office in Round Rock, Texas is pleased to announce their new dental implant procedure. They specialize in dental solutions which range from dental implants to teeth whitening, and they have invested in the training and technology to perform All-On-Four dental implants.
With the All-On-Four procedure, "we are able to replace a whole set of teeth with as little as four implants, avoiding many long surgeries, additional treatment times, and additional costs," said Dr. Ace Jovanovski, DMD, making this a solution that could revolutionize the way full-mouth restorations are done.
The procedure involves performing four implant surgeries, which all anchor a dental bridge that is fitted to the patient's mouth. It is designed to provide a more permanent solution for extensive tooth loss, as opposed to dentures, which may be inconvenient and unnatural for wearers. All-On-Four implants are available at Jovan Prosthodontics in porcelain and acrylic options.
The implant surgery and dental bridge fitting is done all in one visit, and healing may take a few weeks. After the mouth is healed, the patient will have a full set of teeth for their lifetime, while dentures must be re-fitted about every seven years.
This procedure has already seen success in Dr. Jovanovski's office, particularly among cancer patients, who suffered from tooth loss due to chemotherapy and radiation treatments. One specific patient of Dr. Jovanovski's, Deedee Lohmeier, lost her teeth following chemotherapy. She was fitted for a porcelain bridge using the All-On-Four method, and said, "it's wonderful. I really like it...Dr. Ace gave me my smile back and that's priceless."
Dr. Jovanovski believes his work is all about improving the quality of his patients' lives, and this procedure helps him do this more effectively. He said, "we're able to restore their quality of life in as little as one day with this surgery of the All-On-Four."
About Jovan Prosthodontics and Dr. Ace Jovanovski
Jovan Prosthodontics is a prosthodontics office in Round Rock that specializes in crowns, bridges, dentures, implants, trauma, sleep disorders, TMJ-related problems, and more. Dr. Jovanovski, DMD, known to his patients as "Dr. Ace," is the only dentist in the world to have achieved a Master Certificate in Dental Technology (MCDT), recognized by the National Board for Certification in Dental Technology. He is a member of the American Dental Association, American College of Prosthodontics, American Academy of Cosmetic Dentistry, Texas Dental Association, Academy of Osseointegration, and others.
To learn more about Dr. Jovanovski and the All-On-Four procedure, visit https://www.jovanpros.com.