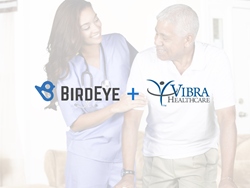 This new patient engagement program will allow Vibra to offer a personalized care experience, preemptively address patient issues, and ultimately improve loyalty and patient satisfaction.
Sunnyvale, CA (PRWEB) August 30, 2016
How does a leading hospital system rapidly expand nationwide while keeping patient satisfaction levels high? Vibra Healthcare does it by incorporating real-time patient feedback management and testimonial marketing into a single platform.
Vibra has teamed up with customer experience and business reputation leader BirdEye to improve patient experience and satisfaction by enabling real-time communication between healthcare providers, patients and their families.
Vibra Healthcare LLC, based in Mechanicsburg, PA, is the leading provider of rehabilitation centers across the United States. These centers include specialty acute care hospitals, medical rehabilitation hospitals, and outpatient physical rehabilitation centers. Vibra employs over 9,000 highly trained specialists and operates more than fifty specialty acute care hospitals and outpatient physical therapy centers with more than 2,900 licensed beds nationwide. To manage patient experience across such a large organization, Vibra has implemented BirdEye's Enterprise Platform for scalable feedback management.
In this three-year partnership, Vibra will use BirdEye's HIPAA compliant enterprise platform to collect real-time patient feedback for all its practices, locations and medical staff. At critical touchpoints, such as after an appointment, Vibra prompts each patient for feedback. The relevant medical staff is alerted in real-time to resolve patient issues quickly. Advanced reporting and insights based on natural language processing (NLP) helps the management learn where to improve hospital operations, and benchmark its care experience against other hospitals. This high-velocity closed loop feedback system is powered by BirdEye.
Vibra's nationwide expansion is driven by their strong focus on business development. To accelerate the growth of patient census at each new facility, Vibra uses BirdEye to showcase positive patient testimonials on relevant digital and social media channels. This strengthens Vibra's leadership status and attracts patients to their best-in-class facilities.
"We are so excited to work with BirdEye and utilize their impressive enterprise platform to deliver an even greater patient experience across our hospital system," said Kyle Hollinger, VP of Digital Marketing at Vibra.
As the healthcare industry and patient expectations continue to evolve, real-time patient engagement enables Vibra to respond to patient needs immediately and understand each patient's experience on a personal level, creating a feedback loop that Vibra can use to improve operations and increase revenues.
"Vibra is known for its expert care and treatment for rehabilitation patients," said Naveen Gupta, CEO of BirdEye. "This new patient engagement program will allow them to offer a personalized care experience, preemptively address patient issues, and ultimately improve loyalty and patient satisfaction."
About Vibra: Vibra Healthcare is a private corporation and currently has multiple hospital operations and outpatient locations in eighteen states. With a management team that has more than a century of combined experience in the development and operation of freestanding Acute Medical Rehabilitation Hospitals (IRF) and Long Term Acute Care (LTAC) hospitals in markets from coast to coast, Vibra Healthcare is uniquely qualified as a leader in the field of acute rehabilitation and LTAC hospitalization.
About BirdEye: BirdEye is a SaaS platform that reimagines the way customer feedback is used to acquire and retain connected customers by closing the loop between reputation marketing and customer experience. The BirdEye platform enables businesses to get new reviews and captures existing customer sentiment from review sites, social media, Net Promoter Scores, and support cases in real-time. BirdEye converts all feedback into actionable insights so businesses can engage in every step of the customer journey, establish a positive online presence, and benchmark performance across locations and against competitors. In today's reputation economy, BirdEye provides the eyes, ears and algorithms necessary to create a standout customer experience that pleases a consumer society reliant on instant gratification. BirdEye platform is trusted by 10,000+ businesses and prominent F1000 enterprises. BirdEye was founded in 2012 by Google, Yahoo, Amazon alumni and backed by Silicon Valley's who incl. Trinity ventures, Salesforce founder Marc Benioff and Yahoo co-founder Jerry Yang.
Contact: Helen Irias, pr(at)birdeye(dot)com
Phone # 1-800-561-3357