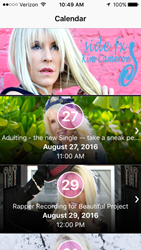 I needed to give back to my fans something unique
Miami Beach, FL (PRWEB) August 30, 2016
Charting records and touring across Europe and the U.S. might have been enough for most artists, but not for Kim Cameron who has taken a deep dive into technology. This week in the Google App and the iTunes store, everyone will be able to download the Kim Cameron Side FX Calendar app for free.
Not only is this technology the first of its kind for a dance artist, it is guaranteed to keep fans and friends completely in the know when it comes to Kim Cameron. Integrated with your Google calendar, users will be able to be the first to see where and when tour dates are posted, when new records and remixes are released, band announcements; and, of course, a monthly picture of Kim Cameron appears on your calendar.
"I had been asked for years to create a paper calendar for fans. I resisted until I thought about integrating the concept into an electronic format," said Cameron. The app is seamless once it is downloaded. As announcements and updates are made, they automatically appear on your calendar app that can be shared with others, emailed, added to your own personal calendar or broadcasted across your own social media.
This is the same artist who has hit the Billboard Dance charts twice (2014 and 2015), has several #1 hits on DJ charts, and recently hit the National radio airplay charts with her latest release 'Moon on the Water.'
To download the app, go to either your iTunes app store and search for 'Kim Cameron and SideFX app' or go to PlayStore for the Android and search for 'Kim Cameron and SideFX app.'