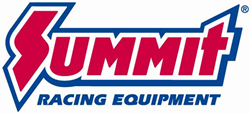 Tallmadge, OH (PRWEB) August 29, 2016
Summit Racing now offers Trick Flow 5.3L Ford Modular Engine Combos. They are based on Trick Flow Specialties' Ford 5.3L 2V engine that makes 466 peak horsepower and 414 lbs.-ft. peak torque on 93 octane pump gas.
Long Block Combo
The build is based on the Ford Performance 5.3L Modular Short Block Assembly. It's assembled from all-new parts including an Eagle Specialties forged steel crankshaft and H-beam rods, Mahle forged pistons, and a high pressure oil pump. The combo also includes Twisted Wedge® Race 195 cylinder heads, Track Max® camshaft set, and a Track Max underdrive damper and pulley kit.
Completer Combo
This combo includes a Trick Flow Track Heat EFI intake manifold setup, 36 lb.-hr. Trick Flow TFX™ fuel injectors, a Milodon oil pan, PaceSetter 1 3/4 inch primary tube headers, and Trick Flow cast aluminum valve covers. A SCT X4 Powerflash programmer to help tune the engine is also included.
Timing Set Combo
This combo has all the Trick Flow parts needed to do the cam timing setup, including crank gears that can be adjusted +/-8° bank to bank. The instructions that come with the Twisted Wedge heads will walk the builder through the process.
Summit Racing Equipment
http://www.summitracing.com
1-800-230-3030