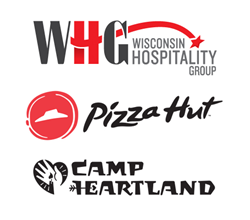 This year's Share Your Heart campaign showed me once again that the people at Wisconsin Hospitality Group and their Pizza Hut restaurants are passionate, caring, and genuinely invested in making a difference in the lives of young people
WAUKESHA, WI (PRWEB) August 29, 2016
Wisconsin Hospitality Group, LLC (WHG), its 73 Wisconsin Pizza Huts, and the company's charitable foundation, WHG Cares, raised $39,013.37 during their 2016 Share Your Heart campaign, which ran April 24th through May 22nd. The proceeds go to support Camp Heartland, providing children who are infected or directly affected by HIV/AIDS with the ability to enjoy an exciting and progressive summer camp program.
"Wisconsin Hospitality Group and Pizza Hut have always been dedicated to improving the lives of children in the communities we serve," said Mark Dillon, President and CEO of Pizza Hut Hospitality Group. "And we are thrilled to be able to give back to organizations like Camp Heartland that work so hard to give children a chance to live healthier and better lives."
All 73 WHG Pizza Hut locations participated in the Share Your Heart campaign in their restaurants by selling paper hearts for $1, and silicone bracelets for $2. Not only did the restaurants encourage fundraising through the generous donations of their restaurant guests, they also supported Camp Heartland's mission through various community events throughout Wisconsin.
"We strive each and every day to provide our guests with a great experience, and also make it a priority to participate in community philanthropy," said Dillon, "and thanks to our restaurant staff and the generous donations of our guests, we were able to have a big impact on Camp Heartland's mission to help children."
"This year's Share Your Heart campaign showed me once again that the people at Wisconsin Hospitality Group and their Pizza Hut restaurants are passionate, caring, and genuinely invested in making a difference in the lives of young people," Patrick Kindler, executive Director of One Heartland said, "Fifty percent of the money raised will go into an endowment, while the other fifty percent will support our flagship Camp Heartland program."
Camp Heartland serves children and youth ages 7-15 infected or directly affected by HIV/AIDS. The organization operates one-week camps which provide a place of acceptance and belonging for children who often experience social isolation. Through shared experience, psychological support and countless activities, campers experience strides in their personal and social development.
Throughout the last 16 years, WHG, a local restaurant franchise group, through local-store campaigns at their 108 Applebee's and Pizza Hut restaurants, has been able to donate more than $2.4 million in combined gifts to local charities including Children's Hospital, ProHealth Care, World Hunger Relief, Honor Flight and One Heartland. These donations were made possible by both the generosity of guests and the hard work of all WHG team members.
The company has established a non-profit foundation, WHG Cares, to centralize all of the company's fundraising efforts and to provide opportunities for tax-deductible donations. During all of WHG's campaigns, the company stays committed to keeping costs down and to providing 100% of the campaign net proceeds to its charitable partners.
Wisconsin Hospitality Group and its affiliates own and operate 108 restaurants across Wisconsin and northern Illinois. WHG has grown in sales to become the largest Wisconsin-based food service franchise company in the state. Headquartered in Waukesha, WHG operates 35 Applebee's Grill & Bar restaurants and 73 Pizza Hut Restaurants, all committed to guest satisfaction and community support.