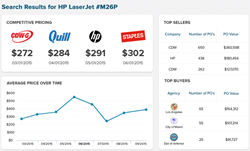 Reston, VA (PRWEB) September 08, 2016
Technology vendors with a SLED ("State, Local and EDucation") focus rely on CJIS GROUP's market intelligence to plan their sales and marketing strategies, and now, through a partnership with SmartProcure, clients have access to historical pricing data for individual component products and services related to overall IT procurements in the SLED.
"CJIS GROUP is proud to introduce a new premium service to its clients, the Purchase Order Portal. This tool provides a strategic advantage by enabling clients to obtain detailed intelligence about actual purchases made by schools and state and local government agencies, directly from their purchase orders" according to CJIS GROUP CEO David Heinemann.
Quick purchase order searches reveal:

Which schools and agencies buy the products and services offered
When they buy them
Who they currently buy from
How much they pay
CJIS GOUP clients can filter searches by:

School, agency or jurisdiction
Product Name
Model and part numbers
Vendor and competitor names
Quantity and price
Total purchase order amount
With the CJIS Purchase Order Portal clients can:

Create campaigns to target competitors and jurisdictions
Get complete pricing intelligence
Understand how vendors, resellers and distributors are selling in a jurisdiction
Respond to RFP's with pricing and solutions that are designed to win and be profitable
Know when target agencies are most likely to buy their products and services
For more information regarding Purchase Order Portal, and to learn how it fits in your CJIS GROUP Premier product suite, Click here and a CJIS GROUP account manager will contact you to provide a demonstration and additional details.
CJIS GROUP
CJIS GROUP is the leading provider of pre-RFP intelligence regarding IT initiatives in the state and local government market. CJIS GROUP analysts speak with government decision makers to identify new initiatives, their funding status and timeline for execution.