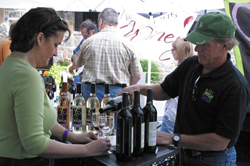 Duncan, OK (PRWEB) September 02, 2016
A favorite event for many, Wine'N on the Chisholm Trail, to be held September 9th and 10th, 2016 will take place in a new location in downtown Duncan, OK on 10th and Main.
Duncan's local AMBUCS chapter began the wine festival in Duncan, Oklahoma many years ago when partnering with the Chisholm Trail Heritage Center's Western Spirit Celebration. When the festival was no longer, the Ambucs held the wine festival at The Prairie House. This year, the Main Street Duncan organization teamed up with AMBUCS to provide a new venue space, downtown Duncan. Main Street Duncan organization will now be the host organization for the festival as the AMBUCS chapter bequeathed the event to the downtown organization.
"We are honored to have the close working relationship with the AMBUCS ," said Main Street Duncan Executive Director Destiny Ahlfenger, "and to be able to continue to offer this event to our community."
The wine festival will run for two days in Southwest Oklahoma. Beginning on Friday, September 9th, dinner and wine tasting will begin at 6 PM. Dinner will include the traditional Italian feast served by the AMBUCS chapter that so many wine enthusiasts have come to enjoy at this particular wine festival. Friday's activities including a silent auction, live entertainment, door prizes, vendors, and other fun will continue into the evening till 10 PM. Saturday will begin at 11 AM with wine tastings among other events and will conclude that evening at 7 PM.
"Downtown Duncan is thriving," said Main Street Duncan President Donna Duwe, "and this event will continue to be successful downtown."
To learn more about Wine'n on the Chisholm Trail, contact the Main Street Duncan office at 580.252.8696 or visit the website at http://www.mainstreetduncan.net for information. Tickets for Friday evening's dinner are available for purchase at Butterfield's Ballroom and the Main Street Duncan office for $25, tickets are required for dinner. Tickets may also be purchased online at Eventbrite: https://www.eventbrite.com/e/winen-on-the-chisholm-trail-tickets-27263443694
Main Street Duncan is a 501(c)3 charity and all donations are fully tax-deductible to the extent of federal and state tax laws; the program has been affiliated with the Oklahoma Main Street Center and nationally accredited through the National Trust for Historical Preservation since 1986.