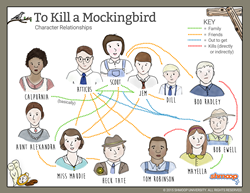 Mountain View, California (PRWEB) August 31, 2016
What does it mean to kill a mockingbird? Does Atticus Finch epitomize the white man's burden? And why do all the characters in the book have dog names while the only dog in the novel has a human name? These are the questions every high school student has about To Kill a Mockingbird.
Shmoop (http://www.shmoop.com), a digital publisher known for its award-winning test prep and certified online courses, explores these questions—and countless others—by serving as a one-stop shop for all things literature. Instead of providing answers and shortcuts, Shmoop gets students digging deeper into the classics…and the not-as-classics. Why? Because when it comes to literature, there's always more than just one answer.
There's also more than one way to explore those answers, and that's why Shmoop offers resources for every type of learner. Shmoop's literature Learning Guides break down texts with detailed analysis, guiding students through characters, themes, symbols, setting, style, and more. Shmoop even goes so far as to analyze specific quotes from the novel, which students can use to help them craft their thesis statement using Shmoop's Essay Lab.
And for the visual learners of the group, Shmoop has more videos than Atticus has nuggets of wisdom. Ranging from short analyses to video courses exploring To Kill a Mockingbird from beak to toe, there's nothing Shmoop doesn't discuss. Even Boo Radley would come out of hiding to see Shmoop's clever infographics, which explore To Kill a Mockingbird—among other novels—through imagery.
The best part? It's all 100% free. Students and teachers looking for more structured curriculum and test prep can subscribe to Shmoop, but Shmoop's literature analysis is accessible to anyone with an internet connection and the ability to spell Shmoop correctly.
About Shmoop
Shmoop offers hundreds of thousands of pages of original content. Their Online Courses, Test Prep, Teaching Guides, Learning Guides, and interactive Study Tools are written by teachers and experts and balance a teen-friendly, approachable style with academically rigorous concepts. Shmoop sees 15 million unique visitors a month across desktop and mobile. The company has won numerous awards from EdTech Digest, Tech & Learning, and the Association of Educational Publishers. Launched in 2008, Shmoop makes the magic happen from a labradoodle-patrolled office in Mountain View, California.