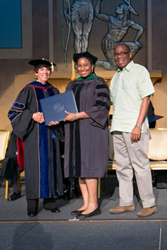 Dr. Adkison's philosophy is as tenacious as Trinity itself: if you aren't improving and everyone else is, you're ultimately falling behind. This is unacceptable in something as critical as medical education.
Alpharetta, Georgia (PRWEB) August 30, 2016
In February, Dr. Linda Adkison moved to St. Vincent when Dr. Skelton transitioned his full time focus to his responsibilities as chancellor and she hasn't wasted any time, accomplishing the following major steps:
The development and implementation (with Dr. Paula Wilson and alongside Dr. Richard Scott in Baltimore, MD) of a rigorous and stabilized clinical rotations track for Trinity students. A rarity in international medical education, Trinity's core rotations are now scheduled a year out for its students. This allows for greater scheduling of both elective rotations (using an expanded network of hospitals across the US and Canada), and better work/life balance for students.
On campus in St. Vincent, Trinity's basic sciences curriculum has transitioned to an active learning environment. New interdisciplinary courses (often styled as "problem based learning" or "team based learning" in the United States), have launched, specifically using shared courses and case presentations (a practice that's normal in US, and unique in the Caribbean). This change will further leverage Trinity's early and constant clinical experience for students at Milton Cato Memorial Hospital. The addition of plastinated anatomical specimens, supplanting traditional cadaver work, ushers in a new era for Trinity students.
As a result of these changes, new faculty have been hired, and will continue to be hired, to fill the teaching needs. While Trinity has always sought excellently credentialed instructors for its students (MD/PhD candidates are the norm), and that trend continues, the search has expanded to now also include professors offering specific experience with, and interest in, other pedagogical methods. This infusion of new talent and new ideas will blend well with the talents of current faculty at Trinity School of Medicine, yielding an even stronger medical education program.
About Trinity School of Medicine
Trinity School of Medicine is a fully accredited International medical school focused on helping students achieve their goals of becoming licensed physicians in the U.S., Canada, and Caribbean nations. Trinity is known for its early clinical experience, internally supportive and externally philanthropic campus culture, and a marked dedication to the study of excellence in medical education.
To find out more, visit http://www.trinityschoolofmedicine.org/
###