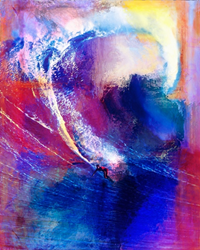 I am deeply inspired by interesting shapes, bold color and joyful movement.
Dana Point, CA (PRWEB) August 30, 2016
The newest exhibit to grace the walls at The Ritz-Carlton, Laguna Niguel is a showing of 26 pieces by Bettie Grace Miner titled "Through My Window." On display from September 6, 2016 through January 3, 2017, the exhibit features original works that combine bold abstracts with the human experience.
"I like to dip my brush into traditional (wet) painting and mixed media, as well as digitally created art," says Miner. "I am deeply inspired by interesting shapes, bold color and joyful movement Artists tell a story with their own interpretation of a visual thought. My goal as an artist is to speak to the viewer through my art and their heart," she added.
Bettie Grace Miner is a fine artist that brings an improvisational fusion of insight, bold colors and an expressive heart to photography and painting. Born in Southern California, the daughter of a career Navy Seabee, Bettie grew up on Navy bases around the world. She attended grade school in Paris, France, where field trips took her to The Louvre and painting expeditions at the Trocadéro. It's no surprise that French painters were such an influence. Miner's creative roots began in music and naturally grew into a love of the fine arts. After graduating with a degree in music, Bettie made the move to Los Angeles to pursue a career in music, only to be sidelined by a career in art, for which she is eternally grateful.
In an ever-evolving style, transitioning between photography and painting, the combination of the two art forms was a natural outcome. Always moved and inspired by the masters, Bettie's work combines fine art photography with her great love for Impressionist and Expressionist art. Self-taught, Bettie's approach to creating an art piece comes from the heart.
As a classically trained musician, music inspired imagery is a natural favorite. She interprets the art through listening to the music as she paints and allows the art to have its way as the music infiltrates the canvas, capturing the excitement and evoking the essence of music within her vivid art. Miner's approach to other subjects remains constant. Wine art, Italian landscapes and architecture, nature inspired pieces and intimate portraiture all reveal the same passion, color, and insight.
Click here for a selection of high resolution images.
About The Ritz-Carlton, Laguna Niguel
The Ritz-Carlton, Laguna Niguel is a re-imagined surfside retreat that awakens guests' senses with its unique ocean-front setting and remarkable service heritage. The resort is the premiere destination for travelers who desire a playful approach to true Southern California luxury. Perched atop a bluff with panoramic views of the Pacific Ocean and more than three miles of sandy beach, the resort continues to redefine the guest experience by creating distinctive, unforgettable, and #EpicMemories that are presented against an extraordinary backdrop. For more information or reservations call 800-241-3333, the hotel directly at 949-240-2000, a travel professional or visit http://www.ritzcarlton.com.