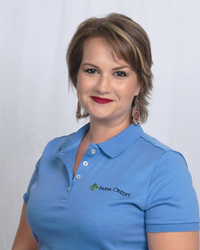 Agriculture is a vital part of our economy, and I'm excited to be a part of that.
Westminster, MD (PRWEB) September 13, 2016
MidAtlantic Farm Credit recently announced the hiring of Sarah Bryan as a loan officer. She will be based in the association's Quarryville, Pennsylvania office. Bryan will report directly to Jim Aird, MidAtlantic Farm Credit's PennMarVa Division Vice President.
"Sarah is very bright and we're fortunate to have her as a part of our sales team," says Aird. "We look forward to her meeting our customers and helping us develop new business opportunities."
As a loan officer, Bryan will be working directly with Farm Credit customers to help them determine which financial products will help them achieve their business goals. "Agriculture is a vital part of our economy, and I'm excited to be a part of that," says Bryan. "I look forward to learning as much as I can from our diverse customer base and helping them be successful."
Bryan earned her master's in business administration from Lebanon Valley College. Prior to joining Farm Credit, she was a quality controls specialist with CNH Industrial Capital. A native of Chester County, Pennsylvania, Bryan now resides in Quarryville.
About MidAtlantic Farm Credit
MidAtlantic Farm Credit is an agricultural lending cooperative owned by its member‐borrowers. It provides farm loans for land, equipment, livestock and production; crop insurance; and rural home mortgages. The co-op has over 11,100 members and over $2.5 billion in loans outstanding. MidAtlantic Farm Credit has branches serving Delaware, Maryland, Pennsylvania, Virginia, and West Virginia. It is part of the national Farm Credit System, a network of financial cooperatives established in 1916 to provide a dependable source of credit to farmers and rural America.